I recently started loading shotgun shells as I've been shooting lots of a new found sport called TRAP….
I bought a used MEC 9000 progressive loader and set it up in the loading room. I loaded 100 shells and went to the trap range. They all worked great!
A couple days later on a raining afternoon I loaded 200 more shells. Not sure what happened but when I got to the trap range, they were sounding like a pellet gun. I could actually see the shot in the air! Something must have got stuck in the reloading bar. When I cut them open I found a huge variation in powder load. I was trying to load 17G of Red Dot and I was seeing 5G, 7G, 10G…never 17G.
Unfortunately I had to cut them all apart to reclaim the shot, powder and primers….200 Winchester AA hulls in the trash!!!
After a few days I started to load some more hulls. I didn't do anything but move the MEC 9000 from my storage area to the loading bencg. I must have dislodged something as now it was loading perfectly….17.1G to 17.3G. At the trap field they all worked great.
I decided to set up some way I could do a visual check on the powder in the shells as I was loading.
Since I will be loading nearly exclusively Winchester AA hulls, and they are translucent, I figured a light shining through them would work. Kinda like they do to inspect eggs…
A visit to the hardware store found a magnetic base, goose neck flashlight.
A piece of flat metal mounted under the MEC 9000 and the light shining on the hull and I can easily see if there is a large variation, load to load.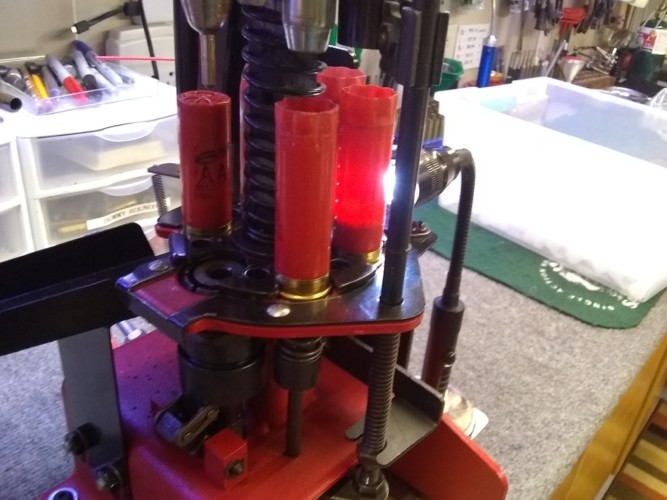 Hope this helps someone that might experience the same issue…..
UPDATE!
A couple days ago I posted a thread where I was using a small flashlight to illuminate the shotshell so I could tell if the powder dropped properly.
The problem with that design is the batteries in the flashlight simply didn't last very long.
I found a fantastic little high intensity LED light on Amazon
2 Pack,3W Mini Spotlight Surface Mounted Light 360° Rotatable Jewelry Cabinet Lamp Spotlight Show Box Curio Display Case,Led Under Cabinet Light, AC 85-265V (White)….
$10.50 for two
https://www.amazon.com/gp/product/B07BJ9B5M7/ref=ppx_yo_dt_b_asin_title_o00_s00?ie=UTF8&psc=1

I made up a little aluminum mount that took me all of 15 minutes and now I do not need to worry about batteries. The swivel ball mount allows precise aiming of the light. Nice!
This new light works the bibbit!