Three Wheeled SASS Gun Cart
I've been wanting to update my Cowboy Action gun cart for some time. My cousin recently got involved with the sport and I built him a cart that the plans have been rolling around in my head for some time.
Here is "Fifthwheel Pete's" cart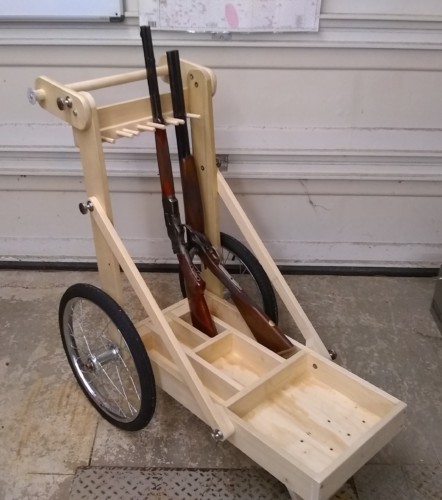 I have since added a third, front wheel to his cart and found it extremely easy to move.
(BTW, Rear wheels were sourced from Harbor Freight. They were on a Gas Welding Cart that sold for $44 with the 20% discount at the time of this writing. Full inertube tires with ball bearings and 5/8″ axle. Can't beat that with a stick!!!)
My previous cart was a much more "vertical", hand truck type cart. When I was shooting solo it wasn't much of an issue to wheel around. A couple years ago my wife started shooting with me and the wheeled load doubled. Much heavier and more work to move from stage to stage.
I store our long guns in lockable "Gun Boxes"…This keeps the dust and rain off them and easily moved from the house to the truck when we go shooting.
As you can see, this cart has the ammo box in the rear. Makes for a nice compact cart, but that gun box is a bit low and not as easily accessed as a front box.
So taking Fifthwheel's design and modifying it for my gun boxes was the order of the day.
Because my gun boxes hinged on the outside, the two angled struts could not be used as they would impede the doors opening.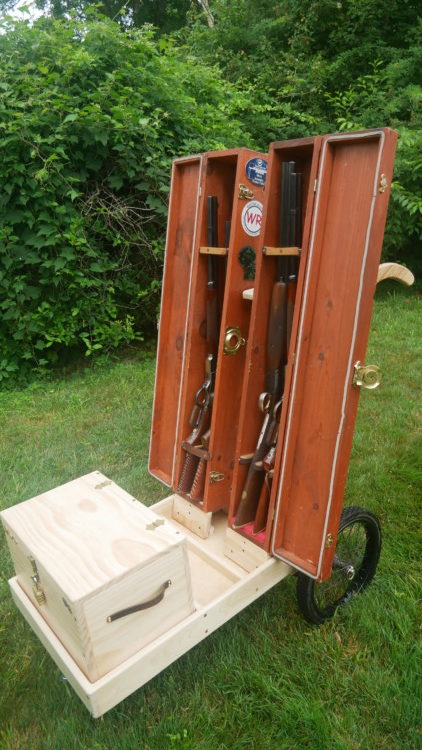 Since this cart also folds down for transport, a method for securing the top and bottom section was needed. In my past life I built many equipment cases for amplifiers, mixers and the like. Standard hold downs for the covers were "Butterfly Latches". Extremely strong and durable.
These latches are available from Amazon or Ebay
REAR WHEELS:
For the rear wheels I utilized the wheels from my existing cart. These were sourced on Amazon attached to a deer carrier that was on sale for $29! And I got a bunch of aluminum tubing for future projects,
They are attached with a 5/8″ through axle that the ends were turned down on my lathe to 1/2″ and secured with a couple pieces of angle iron, four bolted to the cart.
Clevis Pins secure the wheels and make removal easy
FRONT WHEEL:
For a front wheel I needed something that swiveled. Habor Freight had a perfect wheel that swiveled, and had a brake the not only locked the wheel, but also locked the swivel mechanism. PERFECT! And all for under $20.
CHASSIS:
The entire chassis and "ammo box" was made from inexpensive poplar wood available at Lowes or Home Depot. Lightweight, no knots and easy to work with. Total cost for all the lumber was under $75.
All joints were screwed, glued and plugged with walnut plugs
GUN BOX ATTACHMENT:
Brass drawer pulls were drilled and tapped for 5/16 threaded rods. "T-Nuts" were affixed to the gun boxes and the threaed holders screw in from the rear
FOLD DOWN HANDLES:
The handles are made of oak. Much stronger than the poplar. They pivot on 1/4-20 screws and are secured with T-Nuts and another set of draw pulls modified as above.
AMMO BOX:
The ammo box os simple box construction with a sliding shotgun shell tray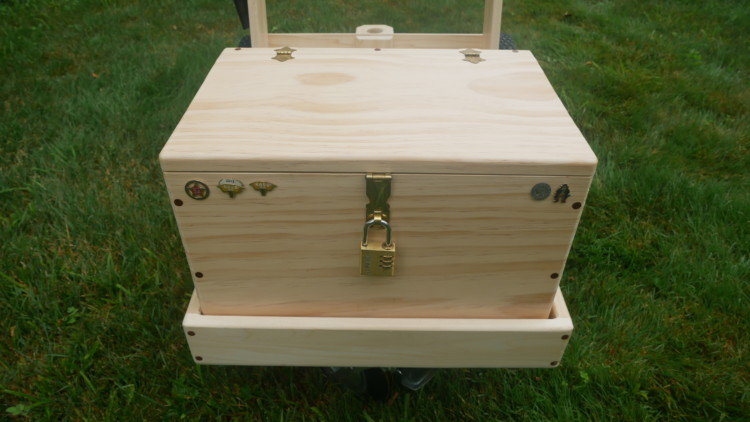 Storage on the lid is done with bungee cord stapled to the underside of the cover.
A copuple pieces of leather forms the handles
SHOTGUN SHELL BOX:
One thing my wife and I found extremely helpful was a Shotgun Shell holder up high on the cart. This one is removable with a real neat dovetail mount I fabricated.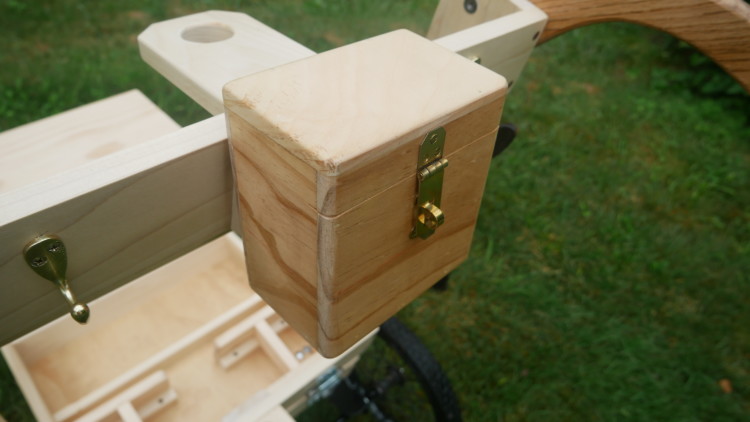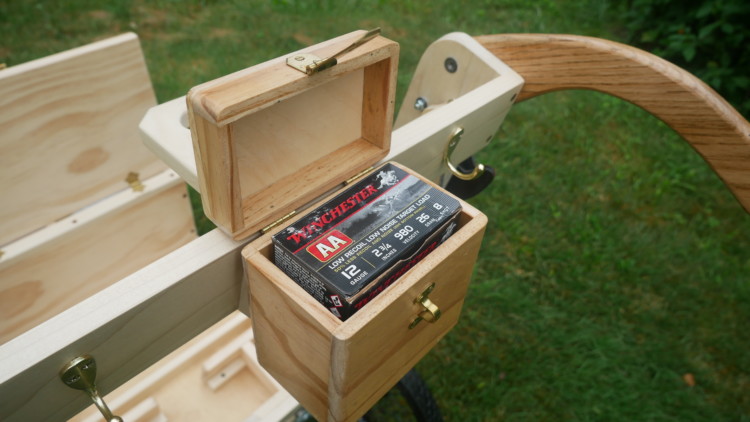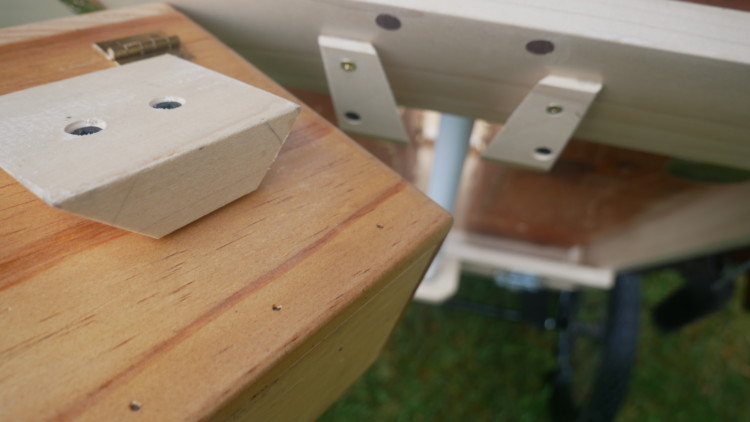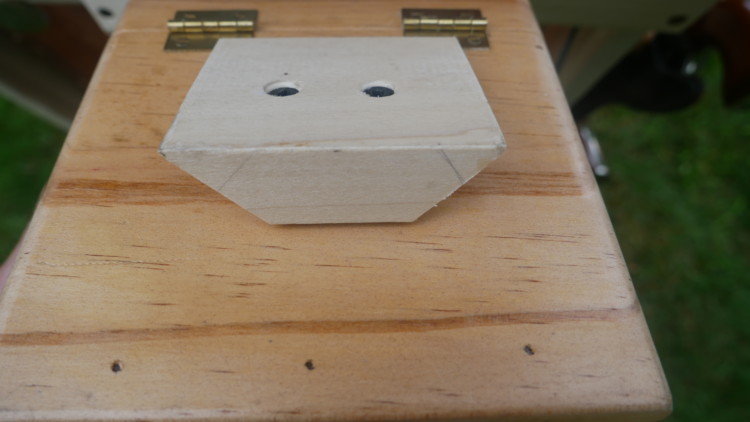 UMBRELLA MOUNT:
It get hot out there! Need a solid umbrella mount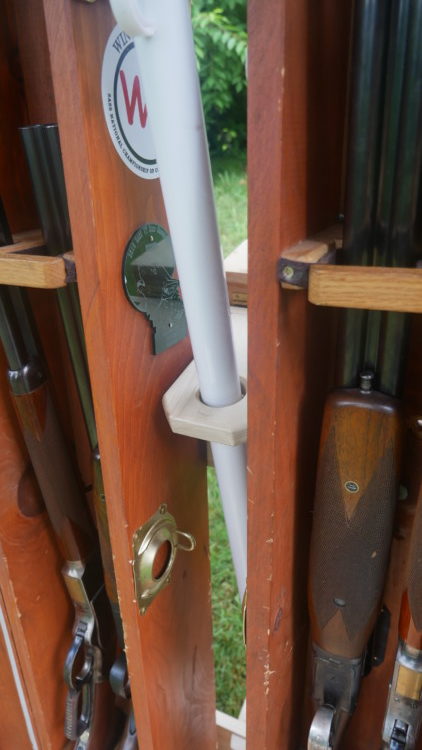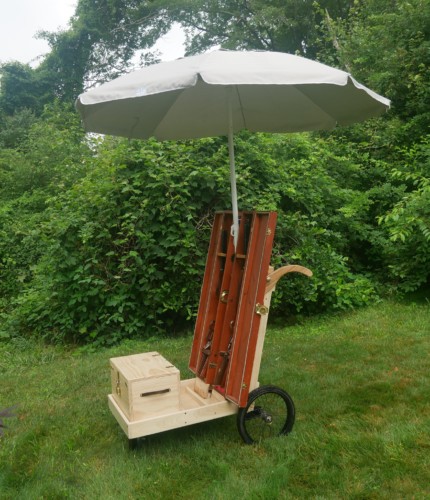 HOLSTERS:
Reno Browne doesn't walk around with her pistols in the holsters. Too heavy she says….
EXTRA STORAGE:
A place for extra ammo, a cooler or other stuff
So there you have it. A new cart just in time for 2019 Black Gold in Kentucky!
I'm amazed at the stability. I was concerned about traversing a steep side grade but totally loaded, and wheeling it around my yard, which has some steep grades, it is totally stable. Time will tell in the real world….
Many more pictures are in my "Cowboy" photo album here:
https://public.fotki.com/Rbertalotto/cowboy-stuff/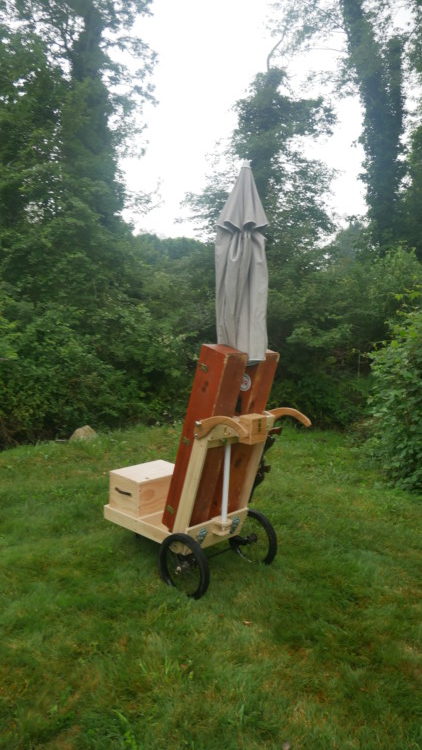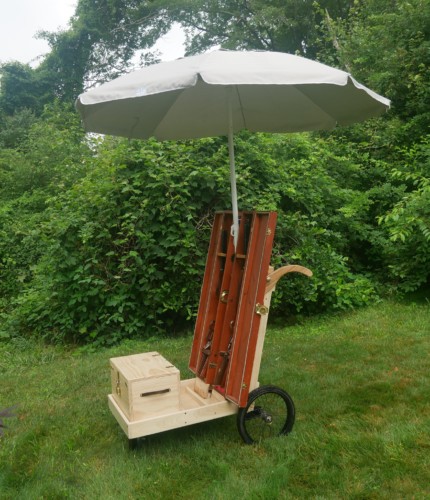 Check out more articles at
Thanks!
UPDATE 7-27-19
First use of the new cart was at Black Gold Shootout in Manchester KY. It worked great, but it could be better. The long road to the shooting range is paved with large gravel and the front wheel tended to dig in a bit more than I liked.
It was replaced with a much wider profile tire
But now I lost the neat brake that the other tire offered. So I needed to device a system simply to stop the cart from rolling down the hill when stopped.
I came up with a system that interrupts the spokes on the rear wheels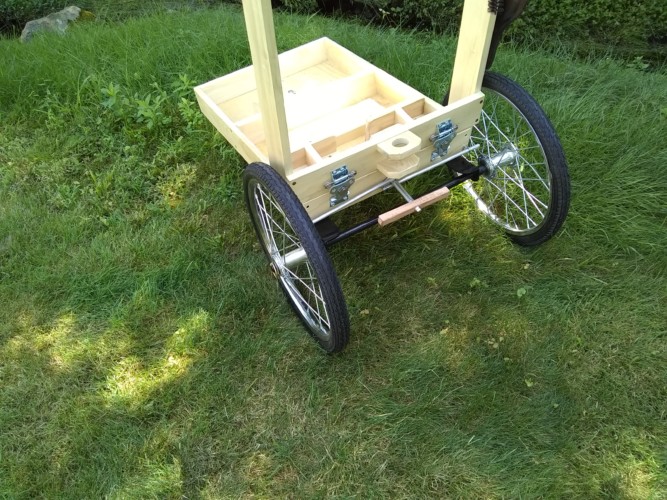 Simply stepping on the wood lever activates the rods into the spokes
When ready to move, step on the other end and the rods retract
Simple SCREW EYES secure the 3/8″ aluminum rod in place
A piece of scrap aluminum, drilled and threaded for a couple bolts make up the works. The "handle" is a piece of 3/8″ threaded rod screwed into a threaded hole in the aluminum bar and locked down with a 3/8″ nut.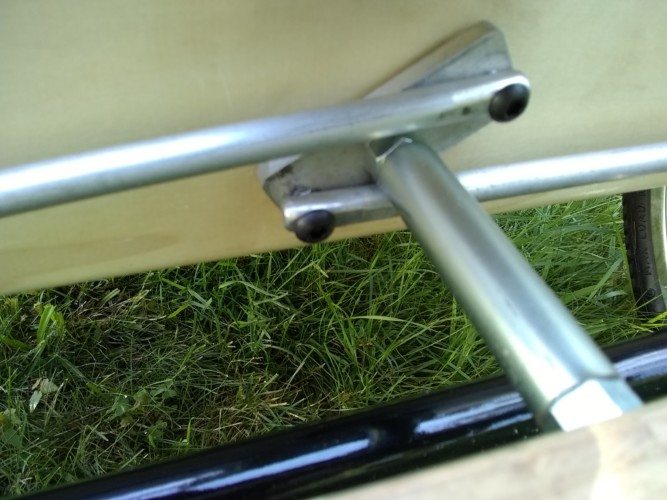 A brass pin secures the pedal to stop it from rotating on the threaded rod. A piece of conduit was slipped over the threaded rod simply for looks.
An ACORN nut secures the whole system to the cart
It works the balls!
As you might notice, I also replaced the rear wheels with larger diameter, air filled wheels. These are from the Harbor Freight Welding Cart mentioned above. The larger the wheels, the easier it is to push. And the non-solid, air filled tires will add a bit of suspension.