http://rvbprecision.com/machine-tools-welding/garden-tractor-to-electric-conversion-john-deere-214.html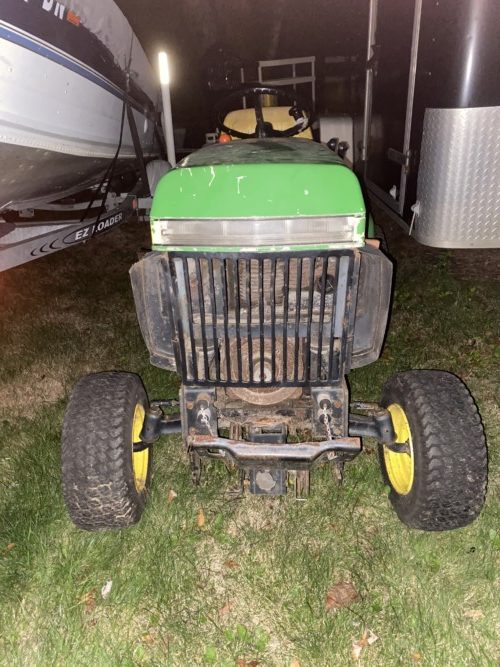 So now the fun begins!
I decided to simply transfer all the electric components from the JD 214 over to the 316 and then sell off the 214 for parts. I bought the 214 for $100 and parted it out for more than $500…….This could be a good business!
Let's cut to the chase and show you how it all turned out and then we can discuss a few issues I had along the way.
And here are some stills…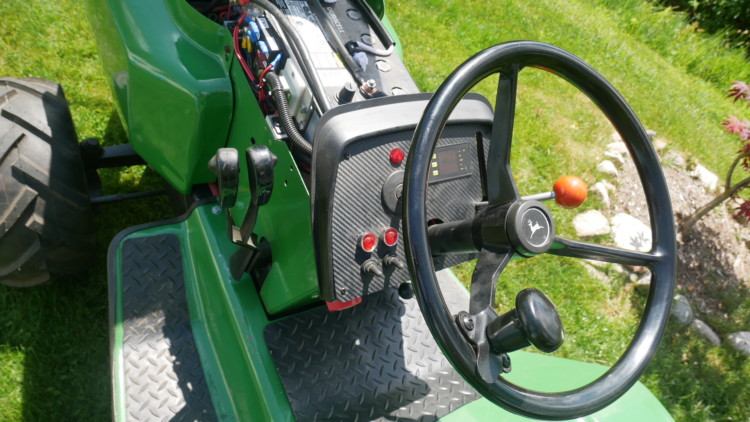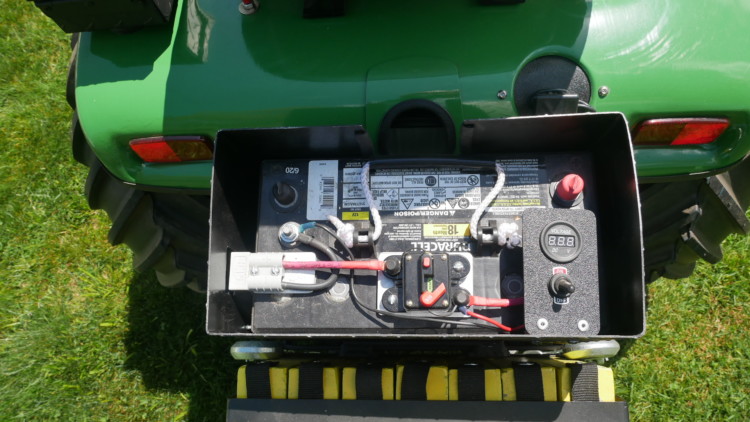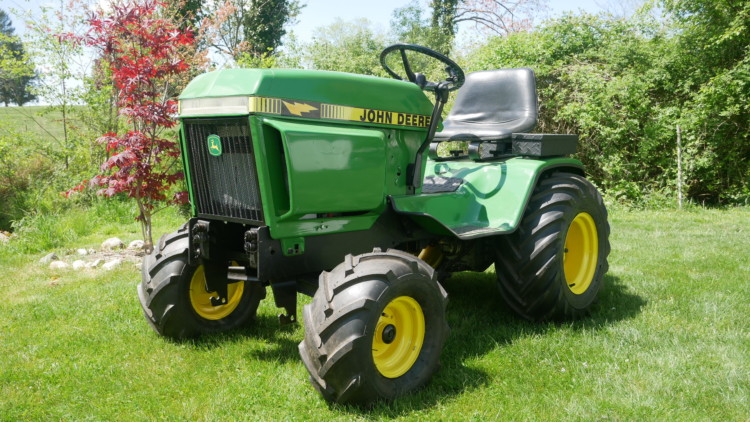 First issue is battery life….This is the absolute number one question I get asked….
The tractor is using a 36-48 volt DC , brush type motor that is designed for constant 3600 rpm tractor replacement. The nice thing about a tractor to electric conversion is there is no gas pedal. You set engine RPM and control speed with the transmission. And you want weight for traction so heavy batteries is a plus…..And you aren't going on a cross country trip so range isn't much of an issue.
The 300 series hydro drive tractors are quite inefficient. The Belt/Gear drive 214 used on average 30amps of battery power while working. The 316 uses about 50amps doing the same work.
So far, with either tractor I've not gone down below 50% battery capacity using the tractors for 6-8 hours doing yard jobs like pulling trees out of the woods, hauling a trailer for firewood, dethatching and snow plowing…….This is because the tractor is not running for 6-8 hours straight. And there is no idling. When you get off you shut the motor down. (I'm thinking about wiring the seat switch to automatically shut it down when I get off)
You can read all about the total electrical system here. It is the same system that was on the JD214:
http://rvbprecision.com/machine-tools-welding/garden-tractor-to-electric-conversion-john-deere-214.html
Cutting lawn with the three motor front mounted cutting deck takes its toll on the batteries. I only get about 30-45 minutes of lawn cutting. I built the front mounted cutter just for something to do. I don'y use it as it takes much longer to cut my little amount of lawn with the tractor than using a self propelled 22″ lawn mower.
Mower Deck Video:
4-WAY Blade:
POWER!…This motor can run on 36V or 48V…….I run it on 36 volts as on 48V it is a real bear! It has so much power that even though it now weighs 1200 pounds with four 12v, 80 pound AGM batteries, filled tires and 245 pounds of lead bricks on the back, if you push the drive lever too fast you are popping a pretty good wheelie! 36v is more than enough power……I left the fourth battery on the back for weight and an auxiliary power source for a winch.
BATTERIES….I used conventional lead AGM sealed 105Amp Hour batteries. Price and weight….I wanted the weight and these batteries were $180 each at Sam's Club……At the time Lithium batteries were $1000 each! As I write this, Lithium battery price has dropped like a stone. I just bought a 100aH, full featured Li battery for $229! AGM batteries are not to be taken down below 50% capacity. Lithium can be taken safely down to 10%…..Affording near twice the capacity of lead acid. But I'd lose 200 pounds that I want for traction (Lithium battery is 25-30 pounds)….But that said, next conversion will be Lithium. Three, 200 amp hour lithium batteries would give me near four times the run time I have now, and much quicker recharging and constant voltage throughout the run cycle. No question Lithium is the way to go…
ISSUES: There really were no issues other than a vibration issue and a loud hydro pump. The vibration issue was do to the 316 having a "Rag Joint" driveshaft. I converted it to a Universal Joint driveshaft that I bought off eBay for cheap. But it turns out it has a slight bend that I didn't realize until it was completely installed….UGH! Not sure if all these pumps are as loud and just drowned out by the loud engines….I tried Tractor Supply Hydro Fluid and now it has ATF fluid. Might try the JD fluid and see if that quiets it down.
Here is the whole story on the Drive Shaft conversion:
http://rvbprecision.com/machine-tools-welding/garden-tractors/john-deere-316-drive-shaft-from-rag-joints-to-universal-joints.html
So all in all, it is a fantastic tractor. Does everything and more that I ask of it. The total convenience of an electric tractor can not be understated….No gas/diesel, no spark plugs, no oil changes, no funky gas in the funky carburetor, just get on, turn the switch and go! And the power with full torque from 1 RPM can not be understood until you use an electric tractor.
BUT….This winter everything is being transferred to an Ingersoll Case 3000 series, full hydraulic drive tractor…..and a conversion to hydraulic Four Wheel Drive…….Why?….Why not! I'm retired and I always need a project!
Thanks for looking……Be sure to check out my YouTube channel to view more "Garage Shenanigans"