Well. I went and did it again….Bought another boat. I gotta be crazy!
I've usually owned a boat or had access to a boat throughout my life. When I was 12 years old my father and I built a 8′ sailing pram to which I almost immediately added a 7HP outboard as sailing was WAY to slow for my Italian blood! After a few years of tearing around Long Pond in Lakeville MA the transom gave up the ghost and the motor ripped it off and it sank!
Next up was a 18′ Cedar Strip canoe that I built out in the garage. A beautiful piece of art if I do say so myself. Everywhere I went folks would compliment it. Even driving down the road with it strapped to the top of my 1981 Subaru, folks would wave and give the thumbs up.  But again, nice and peaceful, but not fast enough to get to the good fishing spots.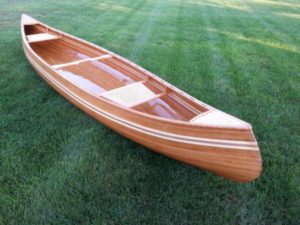 (Representative picture….not mine)
Next up was a 14′ Misty River Wide aluminum boat with a 20HP Mariner outboard. A fantastic lakes and pond boat. Fished it hard from Connecticut to Maine and everywhere in between. Kids, other hobbies and work started getting in the way of fishing so I sold it for a couple dollars more than I paid for it 6 years later. It pays to keep your stuff in great shape!
A few years went by and the desire for Saltwater Boating rang out.  A bit of shopping and I ended up with a 18′ Nautico Seagull power catamaran with a Suzuki 70HP four stoke outboard. Nautico had gone out of business and this was a leftover on the dealers lot. I got it for a fantastic price, used it four years and sold it for what I paid. There were still two years of warrantee on that Suzuki which really helped the sale. Getting your money back is rarely done with boats bought brand new.
(Representative picture….not mine)
So now the grandkids are a bit older and have asked about getting a boat. My son-in-law has shown interest so the Craigslist search starts!
Lots and lots of boats out there, but mostly very old and not well kept for the price range I was looking to spend. I was hoping I could get something in the 20-24′ range with a relatively new outboard for under $10,000. But everything I looked at in the early spring was out of the water and I could do a sea trial. And most had 30 year old outboards! Brand new outboards can be a pain, I can't imagine what 30 years of use / storage / use can do to an outboard. And if I found a boat that fit the bill, by the time I'd call the seller, it was sold. Good boats under $10K don't last long.
One morning I opened up Craigslist and there was a beautiful picture of a Mako23 with a 2010 Mercury Optimax 225 outboard. And under $10K…. At 7am I called the seller and made arrangements to drive right over and look at it. Located in Richmond RI.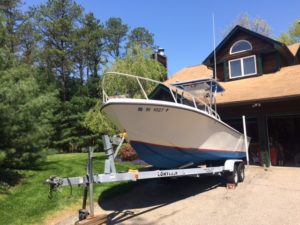 It was owned by a fellow that was in his 80s. You could tell by his garage and workshop that he was meticulous about his stuff.  In fact, he was so neat that he operated a small CNC milling machine in his living room as it was close to his computer! And there was not a chip to be seen anywhere!
The boat presented extremely well. It looked to be in excellent shape. A rubber mallet tapping everywhere did not show up any audible voids or soft spots. When he told me the boat was a 1979 I couldn't believe it! 40 years old and it looked better than any other 15 year old boat I looked at!
He had done a ton of work on it. New fuel tank, new flotation foam, new steering, some new instruments.  It came with full electronics…Garmin Chart Plotter, Lowrance Fish Finder, VHF Radio and all were relatively modern and in great working condition. Even had a like new, dual axle trailer……
We hooked up the "ear muffs" to the engine to supply cooling water and started it up. Started on the first revolution. Sounded great. No smoke, no issues with cooling water. Just a nice sounding 225 HP two stroke motor.
A deal on the price was made. Hands shaked and I was to return on Friday to pick it up with my son-in-law Mike.
The boat and trailer was hooked up to the truck and away we went!
Now the fun begins……Massachusetts Registration!
First problem……Unbeknownst to me, if you buy a boat from RI as a resident of Massachusetts the title needs to be notarized. Ugh……This took a couple days but I got it notarized.
Second problem…..The HIN (Hull Identification Number) that is on a metal tag on the back of the boat needs to match the number on the Title. We couldn't read the tag as it was made of aluminum and 40 years of salt water did a number on it.
But a bigger problem was the number on the title was not a proper HIN for a 1979 Mako 23. With the help of a friend that works at the department of revenue (where boats are registered in Massachusetts) we applied to have the boat inspected and a new HIN assigned. This took approx two weeks to coordinate. The day the inspector showed up to "inspect" the boat it was raining buckets. To say it was a very quick inspection would be an understatement. Into the house and paperwork and signatures flying and I had an application for a new number. Back to the DOR in Fall River for the third and hopefully last time!
So, we got her registered…finally!
So now a decision needs to be made….Are we going to trailer this boat or rent a slip for the season. Everyone I talked to said the same thing. Get a slip and you'll use the boat about 500% more times. But getting a slip in the little village of Padanaram is not that easy. A few years ago I owned a restaurant in this village and had met the folks that own Davis and Trip Marina which was right next door. This acquaintance along with a friend of mine who already keeps his boat there was all I needed to get a coveted slip on the better dock……Nice!
OK….Let's launch this bad boy and see what it can do!
The launch was uneventful. The new boat ramp at Apponagansett Bay that the Mass Department of Fish and Wildlife spent a million dollars on is a real thing of beauty!
Motor started right up……….purred like a kitten! But out in the water would only do 30 miles an hour and wouldn't rev over 4000 RPM. This boat should do 45-50 MPH and the redline on the Mercury Optimax 225 is 5600 RPM!
To the internet!  There is a great boating forum called "The Hull Truth"…. Awesome group of extremely helpful folks. The verdict is that the motor had a bad coil. This motor is a V6 with 6 individual coils. Sure enough, with a spark plug tester I found the first coil I hooked up to to be bad……$110 later for a new coil and let's go for another test run.
Now we are doing 38 MPH and seeing 4600 RPM……….Still not right!
Back to the dock and lets check the rest of the coils…Duh!…. Yup, #5 cylinder got no sparky!…..But the place I bought the last coil doesn't have any. We called a dozen mercury dealers and finally found one in Warwick RI…..But he got me for $135 this time!
Now we're talking. I can hit redline and we are seeing near 45 MPH but then the prop cavitates and loses "bite"………..A bit of research and it is discovered this is the wrong prop for this size and weight boat.  Seaching Craigslist for a 16" / 17P Prop.
But for now, 40 MPH is plenty fast especially with kids on board. The amazing thing to me is how well this engine ran on 4 cylinders. No sputtering, no acceleration issues, jumped up on plane. If you heard it running you would think there was nothing amiss.
Those of you that know me might refer to me as the "Farkle Master"….In the world of motorcycle, "Farkling" is to modify to one personal desire…… Well now, here I have a 40 year old boat….Let the Farkling begin!
The first thing was the seat. It was something the previous owner whipped up out of plywood, a couple pieces of PVC pipe and a cooler seat.
We needed a proper "Leaning Post"….Boats like this, when running through the chop, you'd rather stand than sit. This lets your legs take the pounding and saves your back. I bought a bunch of Azek PVC plastic boards and built a proper leaning post with tackle storage and a couple rod holders. This Azek is pretty neat stuff. Cuts, routs and planes like wood. Bonded with PVC adhesive it ain't never coming apart!
This was mounted on surplus marine seat pillars I found on ebay
All of the Teak trim and the various doors were well weathered. We scraped, sanded and sealed the ones we could save
And refinished the trim around a few doors and made new doors out of Azek for the ones we couldn't save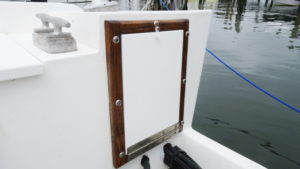 Two of the dash gauges were recently replaced. The Tachometer and the clock. The remainder were old and could hardly read them….Replacement was called for
OLD
NEW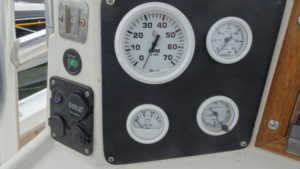 We also added a DUAL radio . It replaced the speedometer as we now use GPS for much more accurate speed.
The radio has Blue Tooth, USB and Auxiliary input. We added a remote panel for these features and to charge cell phones etc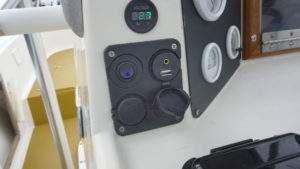 A 12v DC meter was installed above this panel
Speakers were placed in the overhead equipment box for front passengers
and in the console for the captain and rear passengers
A grab rail was installed for the seated passenger behind the console. And a Pelican case was afixed for cell phones, keys, etc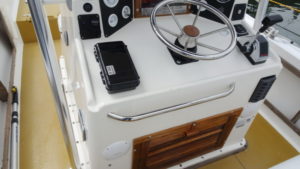 Four LED Flood Lights were mounted all the way around the T-Top for night fishing
The old main switch panel was old and nasty. Replaced!
Air Horns…Gotta have horns! With a neat illuminated button….
Horns are mounted on the T-Top….Sorry, no picture!
A new console door was fabricated from Azek for access to batteries, oil tanks and battery switch and charger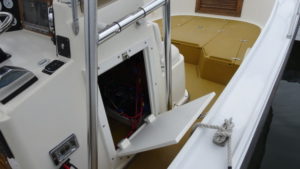 Fire extinguisher
Although the VHF radio was working, I couldn't get it to communicate with the GPS for emergency location…Replaced with a new one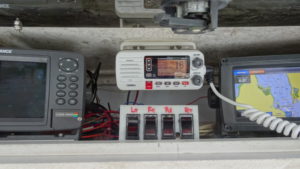 Those four switches have since been replaced with something nicer. They control the four LED canopy lights
New lids were made for the two rear storage compartments. Azek again. Along with spring hold open devices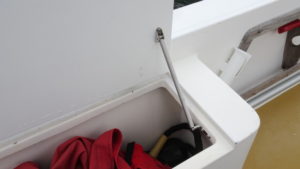 A net was installed in the T-TOP for life preservers. Puts them within easy and quick reach
A new LED indicator Trim-Tab switch was installed. The old switch was simply two buttons and you had no idea the position of the Trim-Tabs and a new motor tilt indicator was installed. Didn't have one…
Porta-Potty….Check!
Bumpers…Check!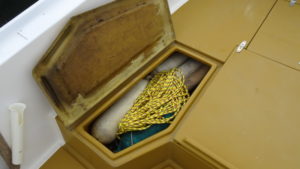 Rope…Lots of rope!
So…There you have it…..Our 40 Year Old MAKO 23 not looking too shabby!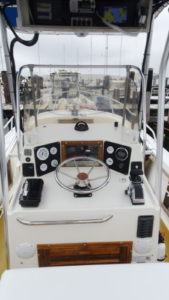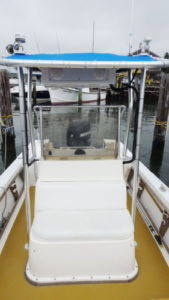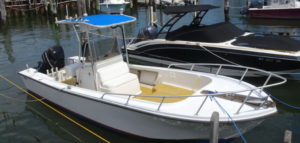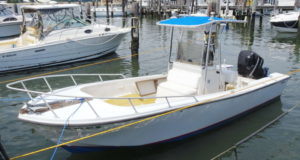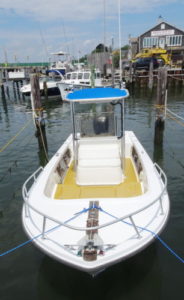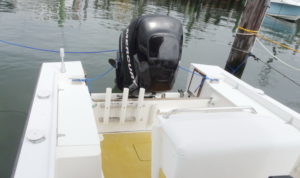 Hope you enjoyed the little tour of our MAKO 23….Thanks!