I was looking for another project to keep me occupied during the Corona Virus "Stay At Home". I was in need of some type of tractor to use around the house to move my trailers as needed, grade some area to plant grass, push some dirt around, and general tractor stuff. But I didn't want to spend much money!
Figured I'd buy a "Fixer Upper" and have some fun working on it.
My Craigslist and Facebook Marketplace offered all kinds of old tractor I could blow a few hundred dollars on. Doing some research it came down to John Deere or Cub Cadet. These two brands have the most support for parts and information and since both of these companies made millions of garden and lawn tractors over the past 40-50 years, the pickings would be good.
My searches led me to a John Deere 214….Very nice condition except for one issue….It had no motor! It came with a working mower deck, good tires and seemed the transmission was in good condition. For $200 I bought it and figured I'd find a motor.
Well, trying to find the original motor for this tractor was proving extremely difficult….and when I found one it was near $1000!! So I figured I'd use some other motor and modify the tractor for it.
Facebook Marketplace turned up the "Small Block Chevy" of small single cylinder motors….Honda GX390….And at $300 it was a steal (Sells for $950 on AMAZON at this writing)
But then I got educated…..Spending lots of time on the various tractor forums I was learning. I became very interested in a "Hydro" transmission tractor. And particularly the IH Cub Cadet "Red" Tractors…..And a day or two later a reasonable condition, IH Cub Cadet 782 was offered on Craigslist.
I contacted the seller and he explained that it ran great, had a plow and a non servicable mower deck. He wanted $750. I agreed to drive the two hours to see it. But first I had to build a trailer to haul it back if I bought it. You can read all about that adventure here:
So off I go to look at the CC 782. When I got there I was a bit depressed. It was in much worse shape than it appeared in the pictures he sent me. I offered him $500 and he accepted my offer. The tractor started right up and easily loaded up the steep ramps into my trailer. So far, so good.
The seller also gave me a couple big boxes of "parts" he wanted to get rid of.
When I got home and opened these boxes I was shocked….A brand new starter in the packaging with a receipt for $162, A brand new electric linear drive for a sleeve hitch or other use. I looked this up on line and it was over $500!!! And a whole bunch of other parts…Hydraulic valves, points, condenser, spark plugs……
So to say I got a DEAL would be an understatement!
So…On to the renovation.
First order of business was new tires. Since I would be pushing dirt and pulling a York Rake….I wanted Agricultural Tires. I ordered a set from Amazon….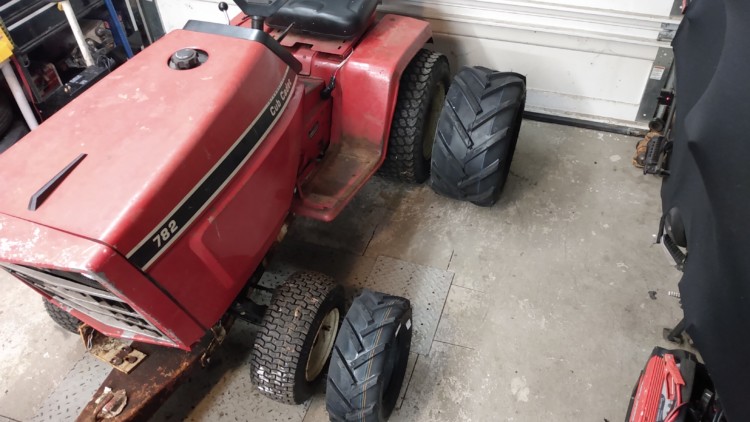 With much effort, even using my motorcycle tire changing machine, the tires were mounted. The front rims had pinhole leaks so tubes were required. I learned a couple new words getting those little diameter tires mounted with tubes!!!
A new light grill was fabricated and a set of driving light I had hanging around were installed. The lower grill was hammered back into shape, painted and a emblem was made from a decal to hid a break I couldn't repair
Next up was a paint job. All the body panels were removed and IH paint secured from Tractor Supply. Body panels were sanded and given a "10 foot paint job" (looks good from 10′)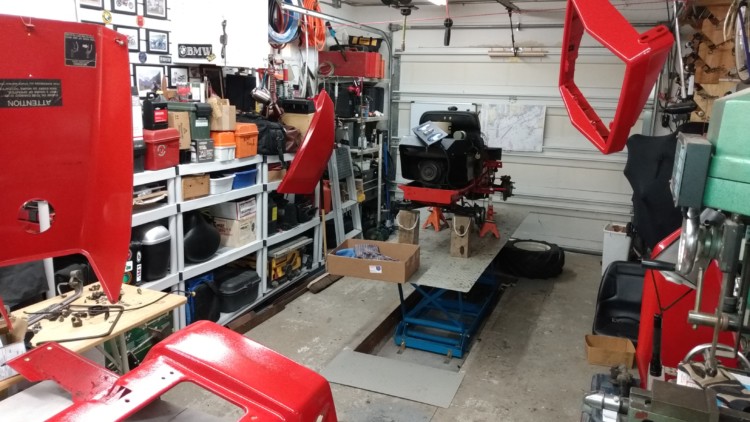 Now it was electrics….
The ignition key switch proved corroded and intermitent. I decided to simply remove it and go with a toggle switch to activate the coil and a push to start button to spin the starter.
I also added a few extra switches for lights, to activate the gauges and to activate the regulator to charge the battery….Why all these extra switches? It looks cool and I like switches! Actually, being able to activate the regulator and see the voltage gauge move from 12.4V to 14V is really nice to have. Shows the regulator is working.
You can watch a "Start Sequence" here….
On to gauges….I like information. This tractor has a later version of the Kohler KT-17….It is a Series II….That means it has a sending port for an oil pressure gauge…..I wanted to see Oil Pressure, Oil Temperature and Voltage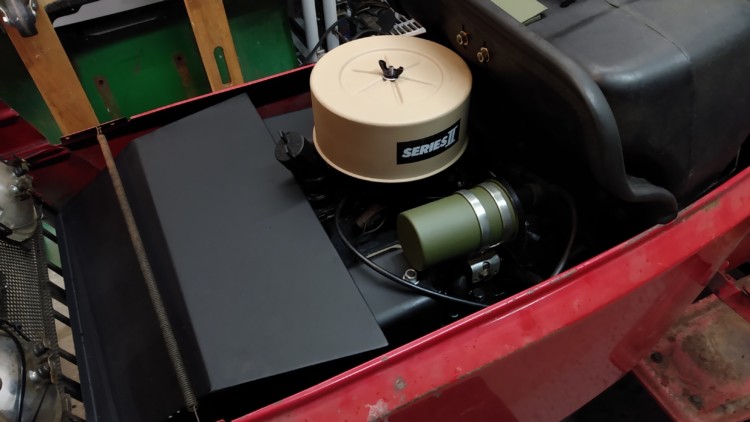 A quick search turned up a real nice set of 2″ gauges from Summit Racing made by Bosch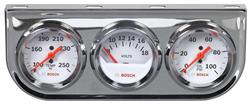 I had no use for the under dash bracket the set came with. Using a piece of ABS plastic, I fabricated a sub panel to mount them to and attached it to the upper dask of the tractor
That was the easy part…Hooking them up took some head scratching.
Voltage was a snap. Couple wires to the battery..Done!
Oil pressure required an adapter that I found on AMAZON…1/8″NPT to 1/16NPT. This is a mechanical gauge with a thin nylon tube to move the actual oil to the gauge. This thin tube was inserted into a piece of fuel hose for protection.
Works great and oil pressure is between 50 and 60 psi while throttle is advanced. At idle it is 40 psi.
Next up was Oil Temperature. This stymied me for a while, until I was changing the oil and realized I could access hot oil through the oil drain plug. And the Bosch gauge kit came with the proper adapter! Easy! Again, this is a mechanical gauge with a mechanical temperature probe and thin tube to bring temperature to the gauge.
Interesting to note that no matter how hard I push the tractor, pushing dirt for hours on end, the temperature of the oil at the bottom of the oil pan never exceeds 160 degrees. And it takes a long time to get there!
So now we need the finishing touches…..Decals.
I ordered them from a place in Texas that has decal kits for all the popular tractors. Even 40 year old IH Cub Cadets!
From This:
To this:
Here is a quick walk around video for your enjoyment:
BTW…That's a Boston Accent!
So far the tractor has been fantastic! I changed all the fluids, fixed a leaking seal in the hydro unit and used it extensively to grade my yard and spread topsoil. I found an old rusted York Rake and reconditioned that in my spare time while waiting for tractor parts.
to this:
When using the tractor, it wouldn't always return to neutral when the brake was depressed and the action of the hydro transmission was "jerky". This required one of the more involved repairs. Repairing the worn trunion and replaced both trunion springs.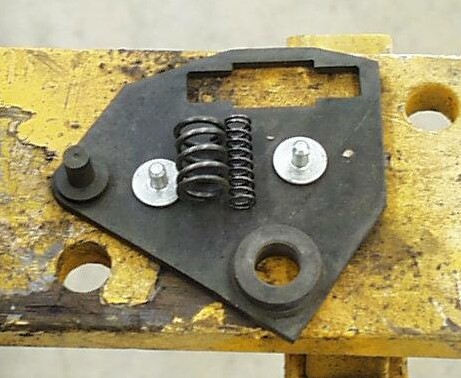 The slot that the trunion springs and the two retaining pins fit into get worn after 40 years of use. A small piece of metal needs to be welded to the plate to correct this play. Lots of YouTube videos on this reapair if your tractor needs it.
So there you have it…A 40 year old IH Cub Cadet 782 brought back to near new condition to work another 40 years!
So what am I doing now in my spare time…….
Building an electric tractor! Stay tuned for more on this in another article on my web site www.rvbprecision.com
UPDATE!!!
I needed a better hitch than the simple hitch plate the tractor came with. A little welding a piece of 2″ square tubing and I had a receiver hitch
But I really wanted to be able to raise the hitch easily from the seat when moving trailers around my property. A three point hitch or a sleeve hitch was needed.
I voiced a request on one of the CC tractor forums and a fellow offered me a complete Sleeve Hitch for $160! (Thanks Matt)
When it arrived I hooked it up which only took a few minutes and now I can easily move trailers around, pull a box plow, raise the york rake and whatever else a sleeve hitch is good for
I welded up a receiver for it as my trailers have various size balls and pintal hitches