I'm on a winter cross country trip. Traveling from Massachusetts to Arizona in February. When I left MA the Forest River 19RR Toy Hauler was winterized. I needed to get south, to warmer climate before I could De-Winterize. First night was in the 20s while I stopped at a Pilot/Flying J for the night. I have a very adequate solar system (you can read all about it here):
http://rvbprecision.com/rv-projects/solar-install-grey-wolf-19rr-toy-hauler.html
So running the furnace in the trailer is no issue. With two Group 31 AGM batteries and enough solar to fully charge them while traveling, I'm not at a loss for electricity to run the fan.
The next night it was in the low 30s and the trailer's heater cycled every 20 minutes to keep the trailer at 65 degrees.
This heater works great as the trailer is only 20′ long and relatively easy to heat. but that FAN! Sounds like a 747 is preparing for takeoff everytime it turns on! And if it was very cold, followed by a very cloudy day, my batteries might not recover sufficiently for the next day and night.
Propane…Catalytic heater is the answer. A stop at a Campers World and I purchased a WAVE 6 catalytic heater. But of course, as always, Campers World had none of the hoses or other connections to install it. They also didn't have the optional feet as I wanted to use it in a portable fashion and therefore I could use it in a tent or other outdoor activity.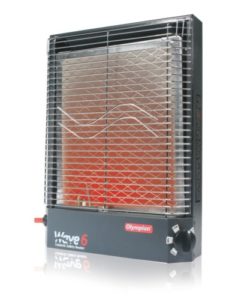 A stop at Cabelas and I purchased a propane hose with a low pressure regulator that was meant for a smoker or camp grill. Perfect.
For a set of feet, I stopped by LOWES and bought two metal straps an a package of 10-32 screws. A couple of bends to get the heater off the floor and I was in business.
I also purchased a new propane tank that I could leave outside the trailer and not have to tie into my trailers propane system,.
To get the hose into the trailer, I made a whole in the bottom vent that this Toy Hauler has to vent fumes from a motorcycle or other vehicle you might be transporting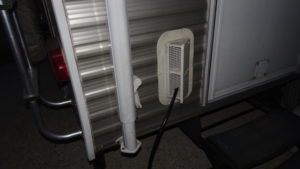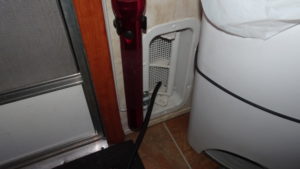 The instructions with the heater caution about the need for fresh air when in use. They suggest a high and a low opening. These toy haulers are perfect as they have a high and a low vent . I opened the bottom vent where the hose enters and opened the top vent on the other side of the trailer. Perfect!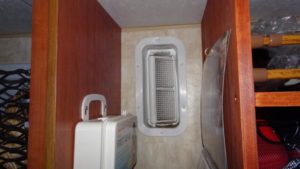 Hooked up and turned on and it worked perfectly
Last night here in Abilene TX it got down to the high 20s…….The trailer stayed toasty warm and I slept like a baby without that 747 flying around every 20 minutes!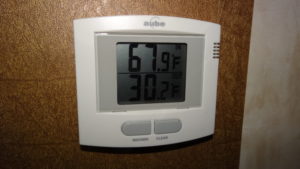 This was the temp reading when I awoke this morning.
So….the results speak volumes. This catalytic heater is the way to go to heat these trailers or RVs in this type of weather.
Be sure to see other articles on my web site http://www.rvbprecision.com
THANKS!