After 12 years and 200,000 miles, it was time for a new truck. The 2006 Dodge Ram 5.9L diesel was running great. Can't kill that engine, but everything else around it was a ticking time bomb. Alternator, AC compressor, rear end, waterpump….all started to act up at once. With a number of very long, cross country trips coming up, I simply didn't want to depend on it.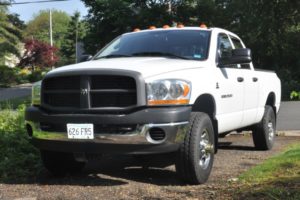 2006 Dodge RAM 2500 / 5.9L Diesel
So the decision….. another Diesel or a Gasser?
I decided to go with a 2018 Ram, 2500 Heavy Duty with the 6.4L gas engine, 6 speed automatic, 373 gears, short bed…..
(as it looked when I picked it up at the dealer)
A few reasons why:
Less initial cost: Diesel was $8000 more for identical truck except for motor. From $35,000 to $43,000 for a Tradesman with a few options
Less cost for fuel: Currently around here, Diesel is 50 to 75 cents a gallon more. At every fill up I'm putting $15-$22 in my pocket.
Less stuff: My 2006 was the last of the "simple" diesels. This is one reason I kept it so long. New diesels have all kinds of "stuff" to meet emissions. And what I've been reading, it's not all good.
Modern gas motors have come a long way in 12 years: Sodium filled valves. Oil spray for bottom of pistons. Cylinder deactivation. 6 Speed transmissions. 410HP / 429PFT…
Reviews by others towing the size trailer I have (7000 pounds) and even larger are extremely favorable.
So…Gas it is!
So far I've put just over 1000 miles on the truck. 800 miles non-towing and 300 miles towing
Initial Observations:
This ain't a diesel! But it's not bad!
Nothing like a diesel for towing. 1800 RPMs at 65 mph and just about never down shifts. No mater the hill, the headwind, it just pulls. This truck likes to shift. In "Tow/Haul" mode it will not shift into 6th gear. 65mph is a steady 2400 rpms and a modest hill will call for a downshift to 4th and 3000 rpms to maintain 65 mph. This will take some getting used too. Big hills are seeing 4000+ rpms. Freaks me out as the diesel redlined at about 3000 rpms if I remember correctly.
Non towing, I'm getting 17.5mpg (hand calculated)….Exactly the same as my diesel did. Towing I'm seeing 9-12 mpg while the diesel was 12-13 mpg on average. I'm very pleased with this.
The ride quality of the gasser is 1000 times better than the diesel. Both towing but especially unladen. Even though the gasser has over 1000 pounds more payload rating, the ride from its coil spring is amazing!
Noise…..Can leave the engine running on the gasser at drive throughs……And in the cab, with much improved wind noise mitigation (triple door seals), the quiet is Cadillac like. I have to look at the tachometer at red lights to be sure the engine is still running!
Room: Rear seat room is better than many luxury sedans I've ridden in. There is at least another 4-6″ of rear seat leg room. At 6'1″ tall, the drivers seat is usually quite a ways back. No problem with the passengers in the back with this truck.
Other than the above…..we'll need more saddle time for more comparisons.
PROJECTS:
FARKLE ….. noun or verb
The word is generally accepted to mean a combination of "function" and "sparkle", hence, farkle.
Motorcycle enthusiasts may install accessories, called farkles (also spelled farkel), to customize their machine.
One source attributes the term to Pete Wells, the organizer of a 1997 Honda ST1100 rally
The term is well known in the motorcycle sport touring community.
An enthusiast may be in the process of "farkling". The completed motorcycle would be all "farkled up". Radar detectors, Global Positioning System receivers, heated grips, and satellite radios are some of those farkles. Other accessories could be aftermarket seats, side and/or top cases or bar risers, which make the motorcycle more suitable for long miles.
I admit it….I'm a FARKLER! I can't leave anything in its stock form. I have to modify and improve! So below are a bunch of FARKLES I did on the new truck
EXTERIOR:
Fender flairs and mud flaps. I bought these off Amazon and they fit perfectly
https://www.amazon.com/gp/product/B01IM8WRDE/ref=oh_aui_detailpage_o00_s02?ie=UTF8&psc=1
https://www.amazon.com/gp/product/B01KAPS916/ref=oh_aui_detailpage_o01_s00?ie=UTF8&psc=1
Running boards. I wanted Stainless Sttel and a chrome finish. Amazon again:
https://www.amazon.com/gp/product/B00COYWVXO/ref=oh_aui_detailpage_o00_s01?ie=UTF8&psc=1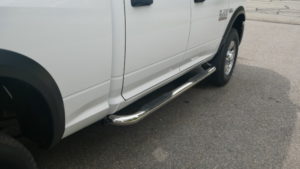 And window vents. Yup, Amazon:
https://www.amazon.com/gp/product/B001XUD46S/ref=oh_aui_detailpage_o00_s00?ie=UTF8&psc=1
Finally I installed the cap that I had on the other truck. This cap was made for 2014 and newer Rams. But it fit my 2006 with just a bit of rear overhand. Fits this truck perfectly!
BED:
Installed a rubber, non-slide mat and a hard rubber tailgate protector. This thing is great! Stuff just doesn't slide around.
https://www.amazon.com/gp/product/B000VUASMY/ref=oh_aui_detailpage_o07_s00?ie=UTF8&psc=1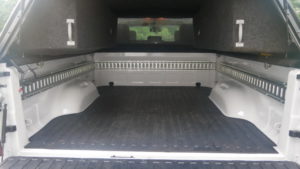 And added "E-TRACK" around the whole bed: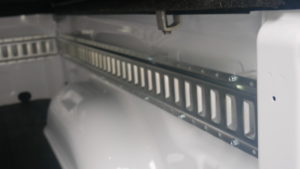 This ETRACK is attached using Pop-Rivet threaded inserts and stainless steel bolts. Aluminum spacers were turned from 6061 Aluminum round stock as needed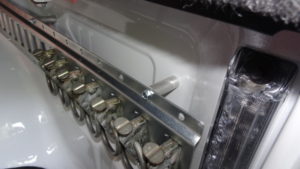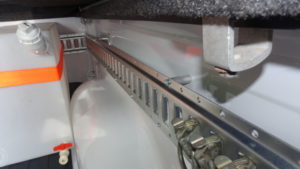 INTERIOR:
The interior was next on the list.
I installed the Garmin 760RV GPS unit on the dash at eye level. A simple bracket was made up from a piece of stainless steel I had laying around and it was attached under the two screws at the little catch all bin on the dash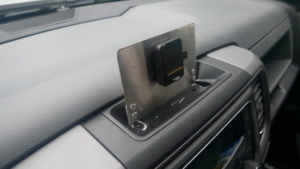 A separate back up camera was installed at the top of the cap and anotherone on the rear of the camping trailer. This screen has two inputs and can be switched from one to the other.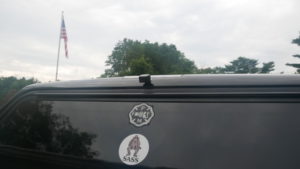 A bracket was fabricated to hold the monitor screen down at the console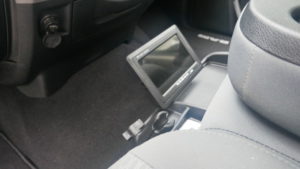 Radar detector was installed using simple heavy duty velcro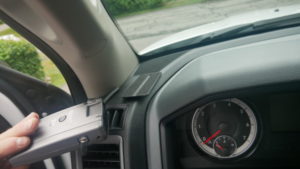 All these electrical accessories were wired and controlled by utilizing the factory row of switches on the dashboard that this truck has. Talk about easy to wire! And then the switches are programmed to be alway "hot" or only hot when ignition is on and whether they are latching or momentary contact. A "FARKLERS" dream!
I wanted some way to utilize the back seat for transporting items I didn't want to put in the bed.
First I modified the seatback to fold down. Lots of ways to accomplish this with a simple google search. I turned four 1/2″ aluminum bushings to raise the seat bottom up a bit and then cut about 3/8″ off the latching hooks on the back of the seat.
Once this was accomplished, I mounted a few tools to the cab liner with double sided velcro and a few stainless steel screws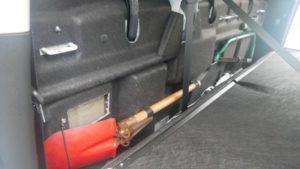 Next I built a fold out floor that can store under the seat when not in use.
A simple 2X4 with a couple aluminum angle brackets was fabricated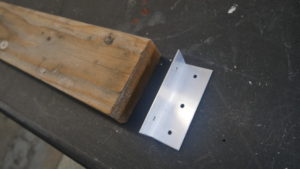 This was attached to the seat supports by drilling holes and tapping them for 1/4 – 20 bolts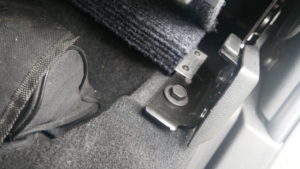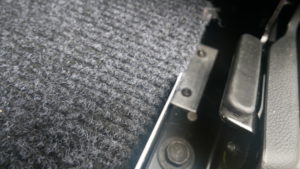 A 1/2″ plywood "deck" was cut and wrapped with some carpet I bought at Lowes.
Two pieces of "piano" hinge were used to hold the two pieces together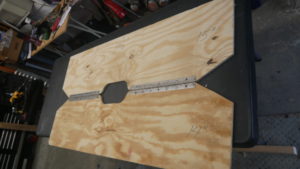 That hole is so when the deck is folded, the cup holders in the floor are still accessable
This hinged deck was attached to the 2 X 4 support
Once installed, a couple of swing down "legs" were fabricated
A two side supports were made and wrapped with carpet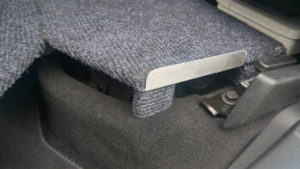 I had a similar set up in my last truck, and items would slide around and pummel the doors. A couple pieces of aluminum angle will stop this from happening.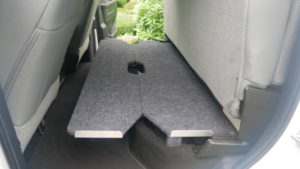 Finished product …folded
And cup holders are still accessable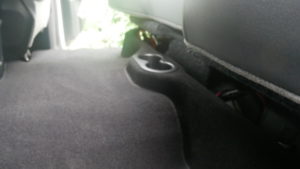 TRAILER HITCH RATTLE ELIMINATOR
I can't stand rattles! And these receiver hitches rattle like nobodies business!
My last truck had a simple 2″ receiver.
Etrailer sells a "Roadmaster" anti rattle device for 2″ receivers that works great
https://www.etrailer.com/Hitch-Anti-Rattle/Roadmaster/RM-061.html
But it wouldn't fit around the 2 1/2″ receiver of the new truck. So with the 2″ adapter in the 2 1/2″ receiver and then the trailer hitch itself, I had three things to rattle!
First I needed to stop the adapter from rattling
A 1/2″ hole was drilled and threaded 1/2″ X 13 at the rear of the 2 1/2″ receiver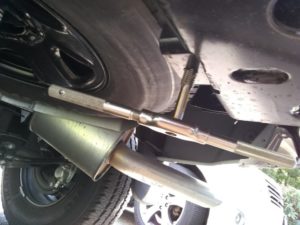 A stainless steel bolt, lock washer and jam nut was used to secure the 2″ adapter
With that done, the adapter needed to be relieved on the bottom for the Anti-Rattle device to take hold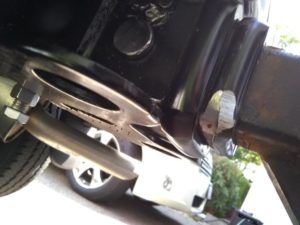 A little paint and we are in business!
ZERO RATTLES!
That's it for now…….
Unlike the other truck, this truck has most of the bells and whistles that I had to add…….The new truck is very boring for a FARKLER like me!