The Forest River Grey Wolf 19RR Toy Hauler has a fold up couch allowing room to transport a motorcycle in the living area.
Probably the most uncomfortable seat in the trailer! Not bad for a child to sleep on, but for an afternoon rest, watching TV or reading a book, not so much.
The couch needed some type of "arm rest" where you could prop up a couple pillows and recline. But since the seating area fold up against the wall, some advanced engineering was called for.
This couch has two threaded bolts on the bottom for some type of optional arm rest.
But for the life of me I couldn't find any information or pictures. One fellow RVer told me if I found these arms, they had to be removed each time the couch was folded. No good as I store all kinds of stuff under the couch in an aluminum lock box that is bolted to the floor.
So I needed to design some type of folding arm rest. Out came the "Pondering Stool" as I sat and pondered how to accomplish this.
Here is what I came up with….A piece of 2″ X 2″ angle iron, two 1″ X 1.5″ square steel tubes for the uprights and a piece of 2″ X 2″ hardwood for the actual "arm"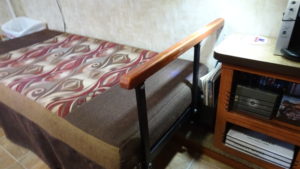 The angle iron bolted to the bottom of the couch
and the uprights with washers and Nyloc nuts under great tension attaches the uprights to the angle iron
The wood top attaches to the uprights with a couple small pieces of angle iron and bolts and more Nylock lock nuts.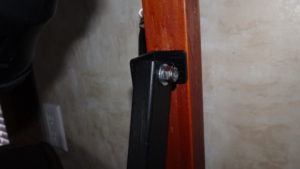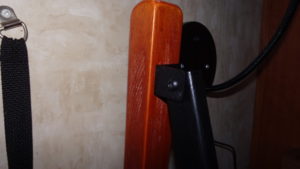 The entire "arm" colapses down for the couch to be folded flat against the wall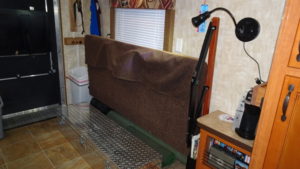 I added this foam riser thingy that I found on Amazon……..PERFECT!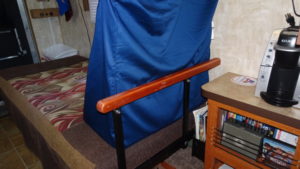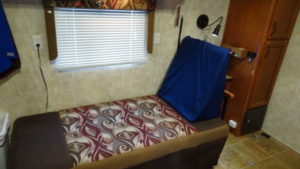 Read a book, watch TV or just rest those weary bones!
Be sure to check out other RV "Farkles" on my full web site
http://www.rvbprecision.com
Thanks for looking!