My Forest River being a Toy Hauler there is always a need for high pressure air. For airing up tires to blowing dust and debris off motorcycles, tools and such.
I originally was planning on building a small 12V system using a portable air compressor I recently bought from Harbor Freight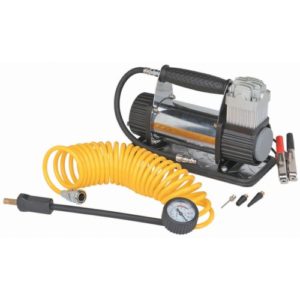 http://www.harborfreight.com/air-tools/air-compressors/12volt-150-psi-compact-air-compressor-69285.html
For under $70 it is a great little 12V compressor. Â I planned on adding a storage tank so it didn't have to run constantly and I had a 10 gallon air tank in the shop I wasn't using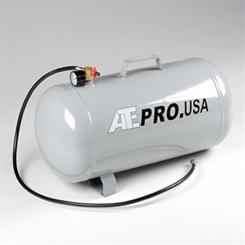 But to be safe, I'd need to buy a pressure switch and other parts to make it all work….and after measuring, I realized it would simply take up too much room.
A bit of research let me to a company that sell a wide variety of self contained, portable 12V air compressing systems….VIAIR.
A bit more research on the 4X4 and offroad forums and I found a whole bunch of folks were using this model:
VIAIR 150 PSI High-Flow Air Source Kit
Here is the description from the AMAZON site:
The VIAIR 150 PSI High-Flow Air Source Kit is the right air compressing solution for users who want power right out of the box, as well as the need to allow for future expansion of their system. The kit contains a 2.0 gallon tank rated at 150 PSI, a tank mounted 280C VIAIR compressor, 110/145 PSI automatic pressure switch, drain cock, pressure safety release valve and ½" air-out compression fitting. The kit has many uses including air horns, tire inflation, load-leveling and more.

The Best in VIAIR Quality Compression Parts
The VIAIR 150 PSI High-Flow Air Source Kit comes with a 280C VIAIR compressor mounted on top of a 2.0 gallon, 150 PSI-rated air tank. This kit is equipped with a pre-wired pressure switch and all fittings pre-installed. Air source High Flow Air Source kits come with an industry-leading VIAIR compressor mounted a top them, so you know you're getting the best quality available. Additional features include a drain cock, pressure safety valve, and a ½" compression fitting for â…œ" air line pre-installed. Simply connect the pressure switch to fused and switched power, make a solid ground and then connect an air line to the compression fitting. The use of a relay and appropriately-rated fuse are strongly recommended.

280C Air Compressor Specifications
Motor voltage – 12 volt
Max. current consumption – 16 Amps
Recommended fuse – 30 Amps
Motor type – Permanent magnetic
Horse power – ¼ HP
Max. working pressure – 150 PSI
Max. duty cycle (@72°F and 100 PSI) – 30%
Minutes on/off (@72°F and 100 PSI) – 13 on, 30 off
Continuous use (@72°F and 40 PSI) – 40 minutes
Max. restart pressure – 200 PSI
Max. ambient temperature – 158°F
Min. ambient temperature – -40°F
Auto. reset thermal protection – Yes
Dimensions – 19″L x 6″W x 13.75″H
Net weight – 17.15 lbs
1-Year Limited Warranty
VIAIR Corporation warrants this product, when properly installed and under normal conditions of use, to be free from defects in workmanship and materials for a period of one (1) year from its original date of purchase. This warranty covers product defects only. It does not cover incidental or consequential damages as a result of misuse or abuse.Fill Rates:
| | |
| --- | --- |
| | 2.0 Gallon Tank |
| 0 – 145 PSI | 4 min. 15 sec. |
| 110 to 145 PSI | 1 min. 15 sec. |
What's in the Box
280C VIAIR compressor, 2.0 gallon air tank with a pre-wired 110/145 PSI pressure switch, drain cock, safety valve, compression fitting, pressure switch pre-installed and wired, mounting hardware (nuts, bolts, washers, locking washers), heavy duty mounting feet with vibration isolators, freeze-resistant wiring, direct mount air filter assembly (two spare elements), air line for remote mounting air filter, remote mount air filter fittings (2), heavy duty terminals (spade connector, ring terminal), check valve pre-installed in stainless steel braided leader hose, owner's manual.
And for under $200 at the time of this writing (5-21-16) I think it is a bargain! Small, compact, relatively quiet and well built.
I decided to mount it in the trailer within the front storage compartment. I used a pair of simple tie down nylon straps and mounted it on a piece of semi-rigid foam to keep noise and vibration down
The straps allow easy removal for maintenance like draining the water from the tank and cleaning the air intake filter.
From the compressor I ran the hose to my electrical cabinet
In the electrical cabinet I mounted a regulator / dryer, on-off switch and a fuse.
A quick air disconnect on the outboard side of the regulator and I'm in business!
The hoses and air gun store with a VELCRO strap in the adjacent storage bay
It takes about 5 minutes to fill the 2 gallon tank and then I get about 25 "puffs" of air at 40psi before the compressor cycles again. Perfect for what I need.
I deflated the spare tire on the trailer and reinflated it to 65psi in only a few minutes. I didn't time it, but it was well under 5 minutes.
A great little compressor if you have a need for air in a small space.
Be sure to check out the other articles on RVs and other stuff here:
http://www.rvbprecision.com
THANKS!