Here is a quick project to easily secure the door in the open position.
Currently this is the device that holds the camper's outside door open
It requires you to go outside to secure it. And should you open the door from the inside, and not secure it, and the wind comes along and slams the door with the force of Thor….well, if your wife is still sleeping, that can have grave consequences…..
I decided to fabricate a magnetic system to hold the door open.
A trip to Harbor Freight found a package of two, 65 pound magnetic hooks for the princely sum of $4.99
This set of 2 magnetic hooks is perfect for holding wreaths, signs and other decorations. The amazingly strong magnets can hold up to 65 lbs. and leave no scar behind on the surface. Durable and simple to use, these magnetic hooks are great for any home, shop, office or classroom for hanging a variety of items.
The hook part is easily removed by drilling through the pop rivet with a 3/16″ drill.
I happen to have a swivel type device left over from the RV ladder kit I installed on my Toy Hauler, but I'm sure you could fabricate something similar with a couple pieces of aluminum angle.
The magnet was bolted to the swivel device and the device bolted to a piece of stainless steel I had in the shop, cut and drilled to the original hold open devices size and shape.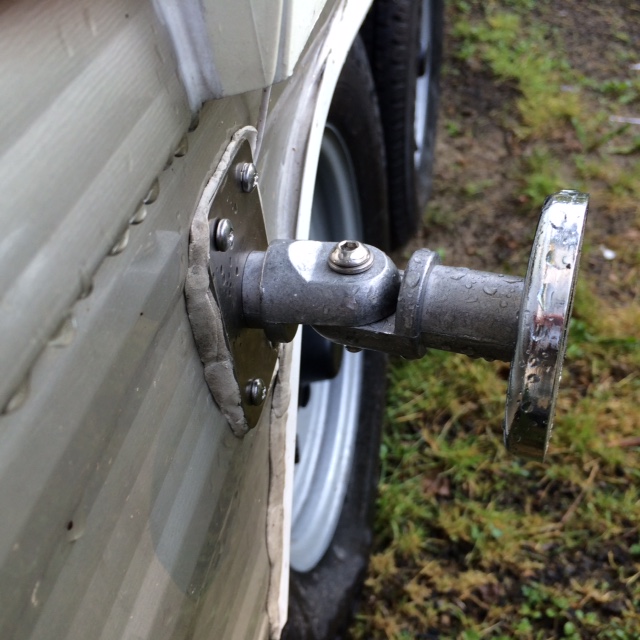 On the door, a simple piece of sheet metal was cut and painted and affixed with four stainless steel screws.
Aligned…..and it works like a charm!
Open the door, let it swing to touch the magnet, and it's held open even in the strongest winds.