Recently I decided to add a Rooftop Tent to my truck for far offroad "Overlanding" adventures. Not wanting to mess with coolers and ice I built a "Portable Generator" to power a small portable refrigerator freezer.
Lots of choices out there for a good quality refrigerator. I had boiled it down to a few models that came highly recommended on the "Expedition and Overland" forum https://www.expeditionportal.com/forum/
On Black Friday, the day after Thanksgiving, I was up late and at 5 minutes to midnight I decided to see what DEALS I might have missed on AMAZON. Lo and behold, there was a 45L Refrig/freezer deeply discounted from $511 to $375.
https://www.amazon.com/gp/product/B07TLL68BG/ref=ppx_yo_dt_b_asin_title_o01_s00?ie=UTF8&psc=1
It was a brand I was not familiar with so some research was needed. But now it was two minutes to midnight and the sale expired on Black Friday at midnight! A quick search and reading a few reviews showed this unit to be highly regarded and it used a very good compressor (SECOP Compressor) that had a 5 year warrantee. But now it is quarter past midnight!
Luck would have it that the AMAZON Black Friday sale is orchestrated from California and I'm in Massachusetts…..It was still Friday there! I ordered it up and ten days later it arrived………But damaged.. 🙁
Looks like UPS dropped it on a corner, bent some metal and broke the plastic foot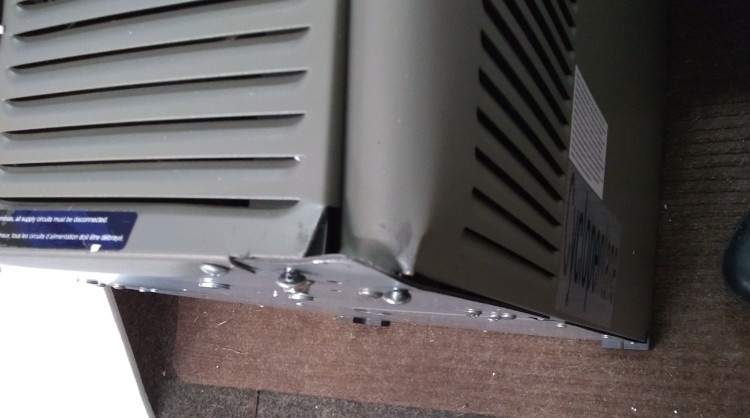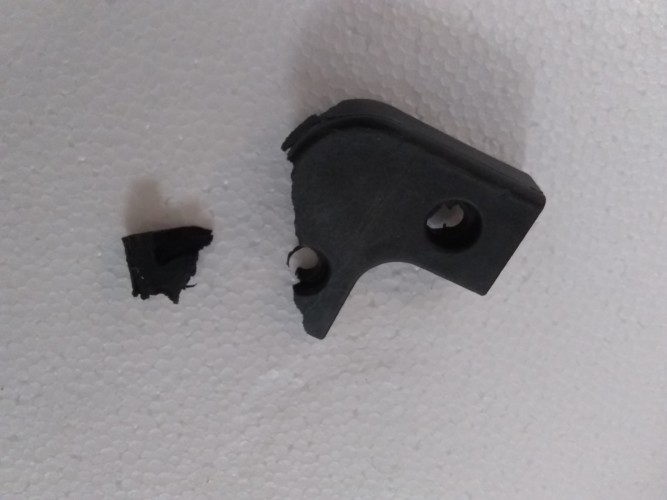 I contacted AMAZON through their chat system and received an immediate response. I decided to see if the unit worked and how difficult it might be to repair. I really didn't want to return it and wait for a new one.
Plugging the VL45 into both AC and DC it works fine. I removed the damaged panels and quickly bent them back into shape. Now all I needed was a new plastic foot.
I contacted ICECO through their web site Email contact and received a reply in ten minutes. I sent them pictures and 30 minutes later they told me a new replacement foot was in the mail. Amazing customer service!
Lets take a look at the VL45….
Its built like an old metal cooler from the 50s. Shipping weight is 55 pounds so I'm estimating the unit weighs 45-50 pounds…..(The AMAZON web site says the VL45 weighs 1.76 OZ!!)
Loaded with food, this thing is not going to be too PORTABLE! A strong back or two folks will be suggested.
Metal construction with nice big handles and as far as I can tell, stainless steel screws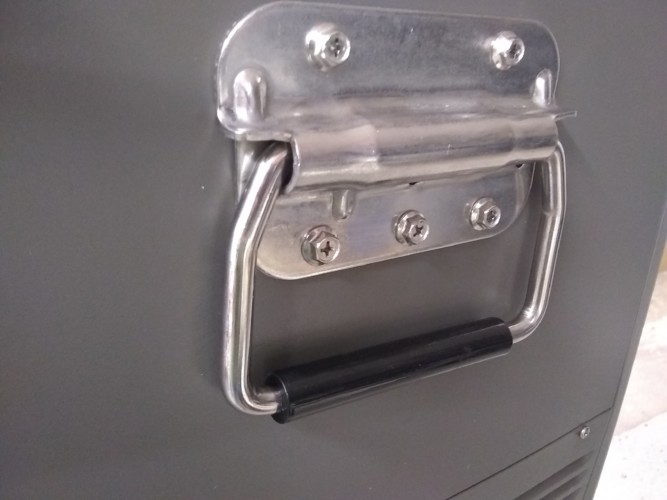 The latches are robust and twice the size they need to be. Like you would find on equipment road cases. These appear to be SS also. I'll test them later.
The hinges are big and use six screws to attach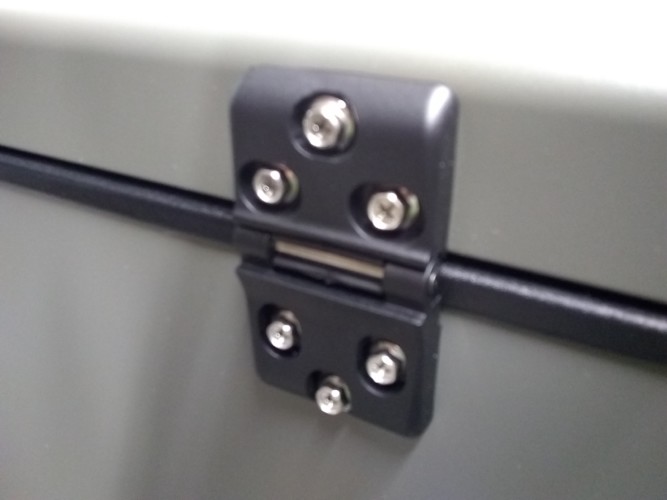 Inside, the lid has two retaining straps to keep the lid from falling back
Two wire baskets are included
On the outside there is a control panel
LED "RUN" light when the unit is running
Temperature UP and DOWN (Can be set to F or C)
Battery Protection gives you three setting to shut the unit down if the battery gets below a certain voltage
On/Off button
Compressor Speed is to conserve battery by running the compressor slower once the refrigerator has achieved preset temperature. (BTW…If you change temperature setting while in "MIN" mode, the compressor will go to "MAX" and draw more current until it reaches the new temperature)
Below the control panel is the connecting panel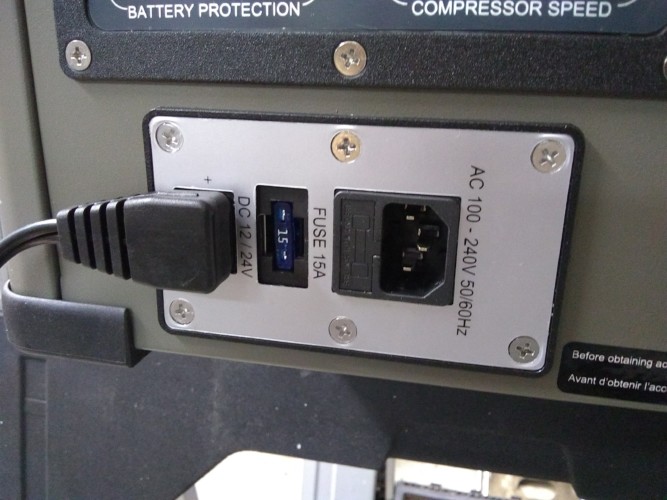 DC…Auto sensing 12 or 24 volts
AC…Auto Sensing 120 or 240 volts (BTW…AC overrides DC. They can both be left connected. If you lose AC it automatically switches over to DC)
15A main fuse
And on the lid, a whole bunch of Geeky stuff to keep the Geeks occupied….:-)
All in all I'm very pleased with the quality of materials and the construction. Not sure how much better the $1000+ units I was looking at would compare.
So, on with the review…
THE FIRST 24 HOURS
I set the frig up on saw horses in my heated garage and let it stabilize for 30 minutes.
The temperature in the garage was hovering around 60 – 65 degrees.
I'm running the frig off my Portable Generator that I built just for this purpose. At the start of the test the 100Ah AGM battery was at 100%
You can read all about this build here on the web site
I used an ACURITE remote temperature sender to monitor the inside and outside temperature
RECEIVER
SENDER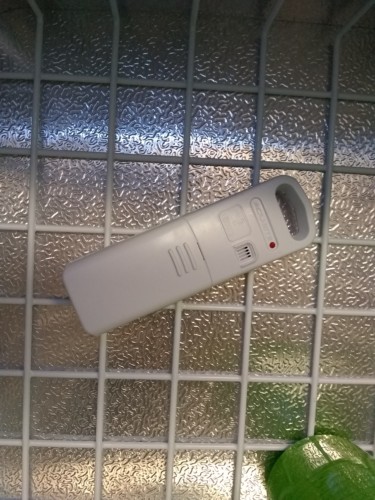 (BTW…These remote temperature devices are inexpensive and I use them in my travel trailer and this one will be used in the ICECO VL45. I can have the receiver on the dashboard of the truck while traveling and I can keep an eye on the temperature of the food in the refrigerator. Saved my bacon (pun intended) on one long trip where the refrigerator in the trailer stopped working on a 90 degree plus day. Quick reboot of the refrigerator and all was well!)
Back to the regularly scheduled program!
I used the included cigarette lighter cord for all this testing. This plug will be replaced with an ANDERSON plug before I use it on a bumpy road in the truck. Cigarette lighter plugs have a way of breaking contact in such situations.
I set the temperature of the refrigerator to 39 degrees and timed how long it would take to get down from 60 degrees
With the Compressor Speed at "MAX" it took only 15 minutes to get to 39 degrees! Having no experience with these DC powered portable refrigerators, I was impressed!
Current draw during this phase was 4.1A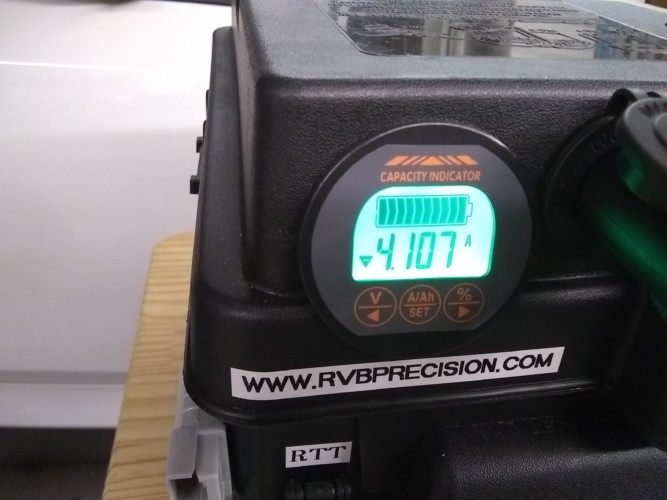 Once the VL45 reached the set temperature, current was .056A
Next I set the temperature to 12 degrees. (Strange that when you go up and down with the temperature setting it misses some numbers. There is no 10 or 11 degrees???)
Again, with Compressor on "MAX" it only took 20 minutes to get down to indicated 12 degrees
(A word on INDICATED DEGREES…….They don't jive with my remote thermometer. Not sure which one is correct. The remote unit reads about 5-6 degrees higher than the VL45's readout. I'll need to figure out which one is lying and report back.)
After these two tests and running for about an hour, my battery was reading 98.5%
I then set the COMPRESSOR SPEED to "MIN" and observed the current draw…2.8A
So now let's freeze something!
I took two plastic cups and put 1″ of water in the bottom of each. One went into the VL45 and the other in the freezer in my house. House freezer is set at 2 degreesF and the ICECO is at 12 degreesF…..
I also put a bottle of water in each freezer
Both freezers froze the cup of ice in approx 20 minutes
The bottle of water took much longer. Not sure which was faster but four hours later, both were frozen solid
This morning when I got up and checked the battery % after the VL45 had been operating as a freezer for 24 hours, it was reading 89.4%
Again, being ignorant about these units, I'm not sure if that is good or bad. But it looks like I can run this freezer for a few days without charging the battery……And maybe longer using it simply as a refrigerator
The test will continue….Stand By for Updates…
ANOTHER MODIFICATION
I replaced the cigarette lighter plug with a 45A Anderson plug….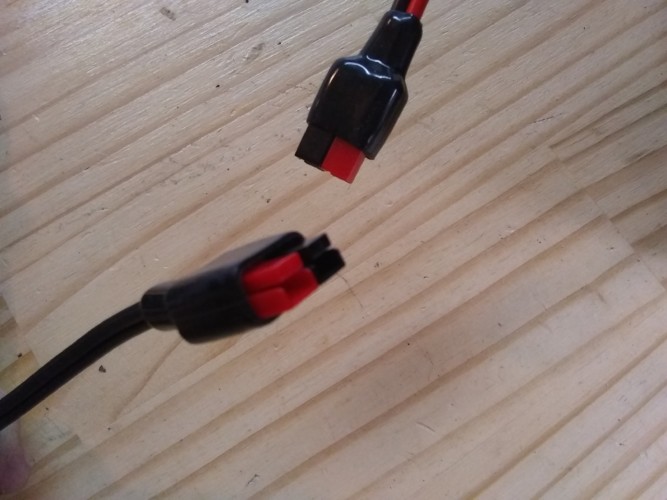 And used the cigarette lighter plug with an Anderson plug as an adapter should I ever want to connect to a cigarette lighter.
The other end now connects directly into an Anderson socket I installed in the Portable Generator (Battery Box)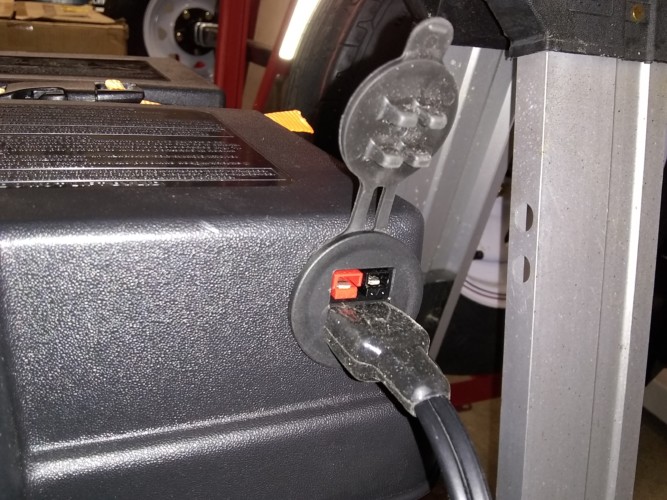 Much more secure than a cigarette lighter plug as the truck bounces down the trail
UPDATE ON REFRIGERATOR PERFORMANCE
Over the past 24 hours I've had the ICECO VL45 running as a a refrigerator. Temperature was set at 39 degrees….
When in "Refrigerator" mode rather than "Freezer" mode the unit uses substantially less power
It was drawing 2.42A in this mode…Just about the same as in Freezer mode…
But cycled much less and therefore used less energy….After 24 hours my 100Ah battery was down to 93.7%
It had used 6.44Ah over 24 hours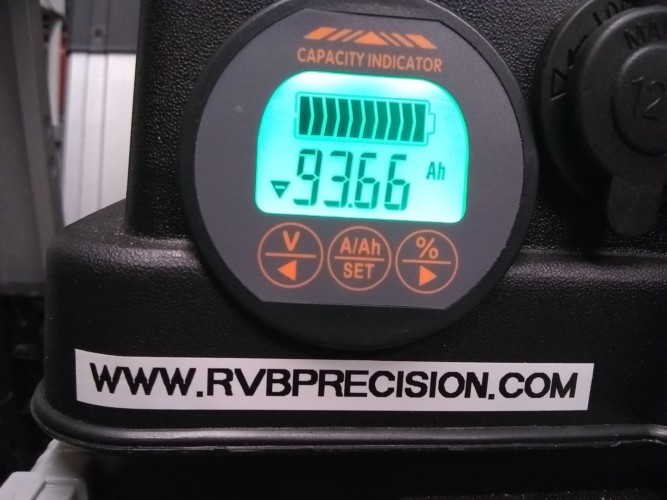 So far, I'm extremely impressed with this unit! Can't wait to take it on a real trip during warmer weather to see how it performs.
UPDATE: August 2020
Well I finally got to use my new ICECO refrigerator in a real world situation. With CoVid cancelling every event we planned on attending with my new Rooftop Tent, I was forced to simply book two nights at a local state park and do some "Real World" camping. To cut to the chase, the refrigerator worked great! Powered from a 110Ah AGM battery, It ran nonstop from Tuesday morning at 7AM (to chill it down for loading in the afternoon) until Friday morning at 7AM when I finally unloaded it and shut it off.
My battery started with a full charge showing 100% charge on the AiLi meter and on Friday morning it was showing 65%. I did not deploy the solar panels to keep a charge in the battery. I wanted to see how long this 110Ah AGM battery to power the frig in real world conditions.
Temperatures were ungodly hot. Every day was well into the low 90s and at night it never went much below 80. The refrigerator was located in the rear of my Toyota Venza with the rear gate opened all day and closed at night. The vehicle was in 50/50 sun-shade during the day. Being that I was camping alone, it was opened infrequently. Couple times at breakfast, lunch and dinner and once or twice during the day for beverages. Temperature was set at 39 degrees and it never went above 41 degrees after opening and closing quickly.
To say I'm beyond pleased with this ICECO refrigerator would be an understatement. After years of this type camping with coolers and ice, all I can say is …."Are You Kidding ME!"….I'm NEVER going back!
UPDAT/UPDATE…….10-21
As you read above, this ICECO refrigerator came to me damaged. Although I used it for over a year and it worked fine, it was a little noisy. I was at an Overlanding event and a fellow camper had the same refrigerator and his was totally silent. Over the next few months the refrigerator's compressor kept getting louder and louder. I contacted ICECO via email and they got back to me within a couple minutes. They asked me to make a video with sound and send it to them. I did and nearly immediately they said they were sending me a new unit! Sure enough, about a week later a brand new unit showed up and I hadn't returned the other one yet. A few days later a return shipping label arrived with a UPS pick-up request for the noisy unit. Fantastic customer service! (BTW, the new unit is so quiet I have to put my hand on it to feel a little vibration to know the compressor is even working!)……Love this refrigerator.