My wife and I plan on doing a bit of Boondocking this winter. Two issues that presented itself is having enough water and getting rid of Grey and Black waste.
My Forest River Grey Wolf 19RR only has a 30g fresh water tank and 28g Grey and Black water tanks. The literature when I bought the trailer said it has 40g fresh water. I was always suspect so I bought a flow gauge and sure enough, only 30 gallons! (It also said it came with 15″ wheels and tires and when I got around to checking it, out of warrantee, it has 14″!!!….But that's another story…)
For the need for more water, a couple 5g water jugs and a 60g water bladder should do the trick:
I bought the bladder from Amazon. Put it on the roof of the truck, fill it up, use gravity to get the water into the trailers tank…
https://www.amazon.com/gp/product/B009ONFDEM/ref=oh_aui_detailpage_o04_s00?ie=UTF8&psc=1
Now we need to get rid of the waste water. A portable Tote Tank is in order.
I ordered up a
Thetford 40502 27 Gallon SmartTote2 Portable Holding Tank
But now I needed a way to store and transport it. Small Toy haulers give up all their storage to haul toys. So I've had to add a few under belly storage boxes and other devices to carry all the junk we "need" on a camping trip.
Looking around the trailer for a suitable place, I thought about just strapping it to the ladder or spare tire like I see most folks doing. But to me, it takes away from the looks of the whole outfit. Kinda looking like "Grapes of Wrath"……
But there is lots of space UNDER the trailer. A few measurements and it was clear that a simple swing down bracket would hold the tote perfectly.
So..dig out the welder and some 1″ x 3/4" channel iron I had laying around and had at it.
I welded up this bracket that will attach to the bottom of the trailer: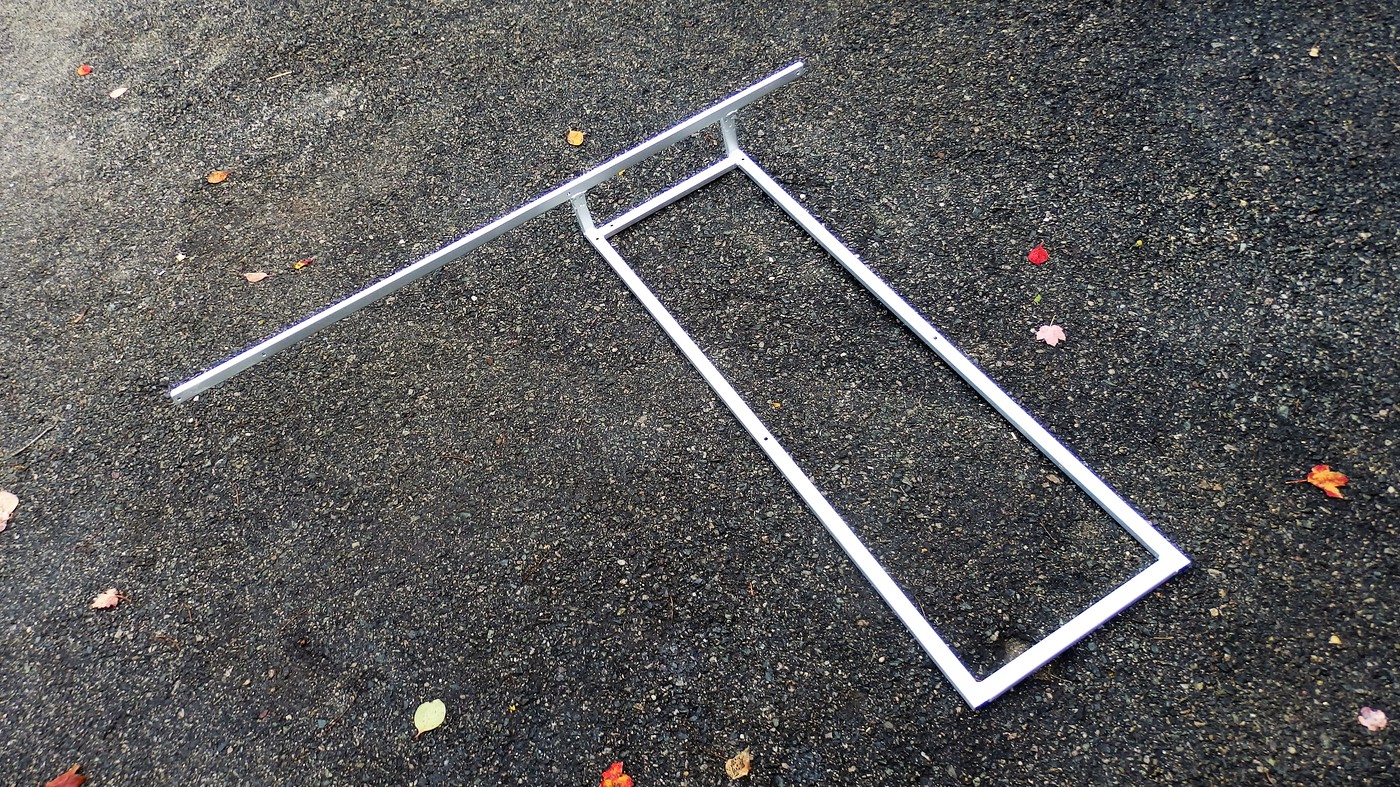 Hinged so it can swing down
Once mounted up I needed a way to secure it while traveling. A heavy duty "Traveling Case" clasp was brought into service:
If you are familiar with these "Road Case" latches, you know they are extremely heavy duty. They can withstand shippers, airlines and roadies. I use four of them to secure the topper on my pickup truck.
Both pieces bolted to the undercarriage of the trailer using stainless steel hardware:
A couple strips of self adhesive weather stripping hold the tank from sliding around:
The tank is slid up on the bracket and simply lifted into place. The weather stripping hold it from sliding down as you are raising it.
Latched and away we go!
As you can see in this photo, the retractable stairs hang down about 2″ lower than the tank. Shouldn't be an issue with clearance
(One thing the observant might notice, I removed the wheels when storing. To keep it as tight as possible to the bottom of the trailer, it is very easy to pop off the wheels and axle and pop them back on when needed. The wheels would have had the tank hang down another two inches. Just as easy to remove for travel)
I might put the whole tank onto a heavy duty plastic bag before storing to keep road grim off it. We'll see how nasty it gets on our first trip.
Lots more RV "FARKLES" on the main web site http://www.rvbprecision.com
THANKS!