Before we start, this will not be a doctoral thesis on calculating MPG with a modern internal combustion engine…….Just a bunch of simple observations. So before you Rocket Scientists, Geeks and Forum Experts start taking me to task for this not being "scientific"……You can stop reading here…..move along….nothing to see here… 🙂
Now, for the rest of you, I see on many forums that folks that are towing travel trailers, Toy Haulers, boats etc, they want to know real world MPG of various vehicles. Hopefully this will help.
This is a brand new, 2018 Dodge RAM 2500 with 6.4L Hemi gas engine, 6 speed automatic transmission and 373 gears…..
My comparison is with my recently traded 2006, 5.9L Dodge 2500 diesel with 4 speed automatic transmission and gear ratio unknown….This truck went 198,600 miles and throuighout its life, towing trailers from 3K pounds to 12K pounds it always averaged 12mpg while towing. The weight of the trailer had less top do with MPG than did wind resistance. The 3000 pound motorcycle "box" trailer has much more wind resistance than the rounded 12K pound car carry trailer. The most towing was done with a 5000 to 7000 pound Toy Hauler (depending on what toys I was hauling at the time) ….regardless of weight, it always returned 12-13mpg.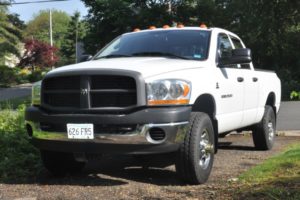 This new truck now has 4400 miles on it. I just returned from a 3000 mile trip that took me through the mountains of West Virginia and Kentucky, up to the flatlands of Wisconsin and back to Massachusetts over the hilly RT90 New York highways and the Mass Pike in Massachusetts. A VERY varied road trip. I waited until the truck had over 1000 "Break In" miles before I towed my trailer. Oil and filter was changed before this trip.
I monitored a total of 13 tank fills. Each fill was accomplished the exact same way…..Fill the tank until the nozzle automatically shut off….wait a timed 30 seconds and fill until the nozzle shuts off again. MPG was all hand calculated.
The trailer was a Forest River 19RR toy hauler with full water tank, two full 20# LPG tanks, no "toys" on board and tire pressure at 65#…..Total trailer weight was 4700#
I used many different transmission settings and different octane ratings as noted below.
Cruise control was set at 64 MPH for all tests.  Very rarely was cruise disengaged. I was averaging 230 miles between fill ups. Roughly three hours of driving at a constant 64 MPH for each test.
During the Break In period, Two tanks of 89 octane, not towing, driving from NJ to MA on RT95 I saw 15.45 and 17.71 MPG.
Let's go right to the best towing milage…..
Absolute best mileage was on RT95 from Rhode Island to New York. Very flat and at sea level…89 Octane,  with "Tow/Haul" not engaged and allowing cylinder deactivation to function…12.09 MPG
Sunoco 93 octane with "Tow/Haul" not engaged and allowing cylinder deactivation to function returned great mileage of 11.2MPG. And this was in relatively hilly New York Thru Way.
Worst mileage was in the wicked hills of West Virginia / Kentucky using 87 Octane and Tow/Haul mode….7.92 MPG
A few observations:
In Tow/Haul mode the transmission never shifted into 6th gear. It stayed in 5th gear at a constant 2000 RPM except for downshifts to 4th and sometimes third with 2500 and 3400 RPM respectively……(It was difficult to figure out what gear the transmission actually was in. I wish these trucks had some type of visual indication. I used the +/- on the gear selector to figure out what RPM I would be at with a 64 mph speed)
Tow / Haul mode caused the transmission to hold gears longer and not "hunt"in hilly terrain.
With Tow / Haul deactivated, and transmission in basic form, there was lots of hunting with even the mildest hilly terrain. Allowing the transmission to shift into 6th gear was optimistic at best. It would only stay there in down hill situations. On very slight hills it would hunt between 6th and 5th. I suggest for longevity of transmission, that towing any amount of weight in this mode be reserved for extremely flat terrain.
As much as I tried, through a couple tanks of fuel, I could not tell any MPG difference when engine was allowed to deactivate cylinders VS simply keeping all cylinders working. This can be accomplished by selecting 6th gear in the manual mode. This stops the engine from going into deactivation mode. (At some point I'll need to test this on a non-towing trip)
Turning Cruise Control off and running with my right foot turned in horrible numbers. 8.95, 7.92 and 7.81 MPG. The reason for this is it was very easy to find the truck running 70-75 MPH. At these speeds, MPG goes out the window FAST!
This Truck / Engine is a beast. It is no diesel and in the hills with the transmission shifting constantly, at times I was longing for my Diesel. In January I recently went over this exact same route in WV/KY and I bet the Diesel downshifted maybe twice. 1800 RPM from Massachusetts to Arizona! But with the gas engine, I never felt under powered and I was easily able to pass slow trucks in the climbing lanes with short bursts of 4000 RPM. This took some getting used to. Compared to a Diesel it felt like the engine was going to come through the hood!
So…..The Diesel returned roughly 20% better MPG……but  diesel fuel costs roughly 20% more…..so cost wise, it's a wash. In certain areas, if you decide to run 92/93 octane, these fuels were more expensive than Diesel. In NY state I saw 93 Octane at 30 cents a gallon more than diesel. But 87-89 octane averaged 20% less than diesel in all states I traveled.
Both truck have same size fuel tanks, so the diesel would go 300 miles before refill and the gasser would only go 230-250 miles.
It was SOOOOO much easier finding gas than diesel. Although I've lived with diesel vehicles for more than 20 years, and NEVER had an issue finding fuel, a few times it got "exciting". (I always carried a 5 gallon can of diesel with me….Never used it in 12 years…but nice to know it was there)Â  And sometimes when towing a long trailer, access to the diesel pump was a challenge if not impossible. A few times I had to leave and find another station with better access to their diesel pump. With GAS it was a cinch! Pull in anywhere and go to the most convenient pump. This was a bit of a positive surprise/benefit.
My trailer stayed much cleaner than when pulled by the diesel…………not a big deal, but nice.
The gas truck is SOOOO much quieter. At red lights I sometimes have to look at the tachometer to be sure the engine is still running!
Ride quality is leaps and bounds better than the diesel. Coil springs really help with this. And the gas truck has over 1000 pounds more payload than the diesel.
In closing, I'm very happy with the decision to go from Diesel to Gas…….The $8000 in the bank, being the difference between a gas or diesel motor  is nice too!
13 tanks hand calculated MPG
11.61…12.09…8.95…7.92…8.23…7.81…12.38…7.75…7.19…9.90…9.29…9.78…8.89
This Trip….
2700 calculated miles / 289 g of gasoline = 9.34 MPG