We perform a modification to the magazine and the trigger guard on the CZ-527 that converts the exposed, some feel rather ugly, drop down magazine to a more modern looking flush mounted magazine.
BEFORE
AFTER
Here's what we do:
Mill the trigger guard to a flush bottom fit.
We do not offer blueing, so we coat the trigger guard with KG GunKote 2400 Teflon Semi Gloss finish. This is a baked on finish that is Mil Spec and matches the factory finish very well.
Cut the magazine down to a flush fit. Depending on caliber, roughly 3/16″ of the magazine will extend down below the stock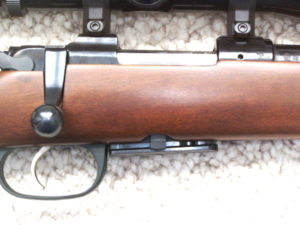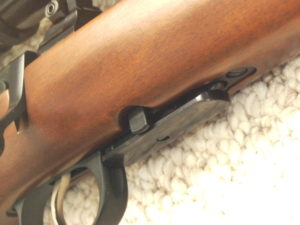 We then modify the magazine release to clear the bottom plate of the magazine.
WE NO LONGER OFFER THIS SERVICE ON THE CZ IN 22 HORNET, or any Hornet Based cartridge or any rimmed cartridge!…CZ has changed these magazine to include lots of plastic parts that do not lend themselves to this procedure and feeding problems result. Rimmed cartridges simply do not lend themselves to a shortened magazine……We can modify the trigger guard on a 22 Hornet rifle for $65 including shipping back to you. The modified trigger guard still works with a standard, long 22 Hornet magazine.
The cz-527 in ……6.5 Grendel, 7.62, 222, 17Rem, 221FB, 204 Ruger and 223 Rem and other "rimless" cartridges work great….
All of this is done for $125.00 which includes shipping back to you. Extra magazine can be modified for $75 each. But be aware, a standard length magazine will still fit the conversion. Some folks purchase a second magazine from CZ and keep it long for when more fire power is needed. This conversion will result in the magazine holding two rounds. Although some magazines will hold and feed three rounds. Its the luck of the drawer in how hard or soft your particular magazine spring is. We guarantee two rounds feeding properly.
You need to ship us the trigger guard, the magazine and the magazine finger release.
DO NOT SHIP THE WHOLE RIFLE!!!!
Please Email us for shipping instructions. Do not ship anything without emailing us first. rvb100@comcast.net    Be Aware….We suspend service during certain times of the year for traveling, hunting trips, etc
This service is only available in the USA. Magazines can not be shipped or received outside of the USA. Sorry!
Turn around time is 10-14 days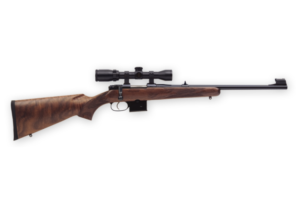 BEFORE
AFTER
Here are what some folks are saying about our work:
9-1-23
hello roy, received everything today and once again a wonderful job. thank you and hope to send another soon, if i can find another,i am always looking but its getting harder and harder. can't understand why cz discontinued the 527? mike
8-30-23
I got all my CZ parts today. I haven't unwrapped them all but so far they look fantastic!  Thanks! Carl
4-24-23…
Roy
Everything looks great and works perfectly. Thanks for doing this for me.
Have a Great Day
Robert
Hi  Roy
I received my clip today all I can say is you do amazing work thank you very much might be contacting you again sometime I'm all the time buying a gun …Kenny
Hello Roy,
Just received the mag today. I couldn't be more pleased, nice job!
Thanks again Rick
Got the parts back today. They look awesome! I couldn't be happier! Thank you sir…Tony
Roy:
I put Sweet Pea back together last night (I was born in Tennessee so I name my rifles ) and she looks great!  I have the 2-Round magazine you made me and a couple of factory 5-Round magazines and they all latch in and out and cycle perfectly.  The finish is excellent, and the magazine latch is tight, but I live in fear of magazines falling out (at the worst possible moment) and prefer them that way. So I am very pleased, and thanks so much for the quick turn-around.
Chuck
Hi Roy – I just got my CZ 527 bottom metal & magazine back today – and they never looked so good ! What a terrific job you did!
I love the conversion to the shorter magazine – the rifle looks 200% better, and the parts you worked on would pass as "factory" !
The metal finish is a perfect match to the rest of the gun, and I don't find a need to file a second finger recess in the stock wood, opposite the clip release – so it looks like I'm good to go.
Thank you, very much, for doing such a nice job – and in such a timely manner, too.
Roy,

My CZ conversion arrived today. Excellent job! It adds a touch of class to an already fine little rifle.

Roy,

just wanted to say thanks. My CZ-527 looks pretty sharp with the magazine conversion.

Roy,

Thank you for the quick turn around and beautiful job. Makes the rifle look
much better and easier to
carry.
JD

Roy

Got the

parts back for my CZ today. They look great, and seem to function like they
should.

Thanks for
a painless transaction and doing exactly what you said you would in a timely
mannor.CR

Roy,

Hello Roy    received the .17 & .204
parts sat 6-30-07,  you did a supper job on all the parts, and after
putting the rifles back togeather I could not be more pleased. they now look
like custom rifles instead of looking junkie with the long clips and gussets on
the trigger guards. thank you for such a great and timely job   DW

Hi Roy,

Just got
the parts back today.  Great Job!  The fit and finish are excellent
and the operation of the magazine so far is flawless.  It's a 100%
improvement over the original design.  And, to top it off, it can hold
three rounds (I was expecting only two).
Thanks 

Roy,

I posted a few pics on some forums that I frequent so hopefully you'll get some
more business your way.

I can't tell you how happy I am with the mod.  Outstanding job, sir.

Captain David XXXXXÂ  USMC

Semper Fi

Roy,
Received my parts yesterday in the mail. Just want to let you know

I
am very pleased with the results. After seeing the completed conversion,

I
will probably buy another CZ.

Best Regards,
John
Txxxxxxx

Aloha Roy,

> Your work must be a
labor of love . To get that quality of

> craftsmanship for

> $75 today is very rare.
Thank you very much, it works perfectly and

> makes carrying the gun
much easier, not to mention the smart looks.

> Right On Brada'

> Tom

Hi Roy,
Thank you for the work you did on my CZ 527.  I have several groundhog rifles ranging in caliber however my CZ in 22 Hornet has become my favorite.  The flush fit makes for easier carrying and I have not have any feeding problems to report.
Thanks, Brent

Roy,

My carbine parts arrived today.  If you had a customer survey I'd rate your service very satisfying!  Fit, finish and function are all first rate and the rifle can now be carried in one hand at it's natural balance point.  I never did understand CZ's thinking on a mag that so completely ruined the gun's ease of carry.  Who needs a 5 round mag for a purely sporting gun. Personally I've never had time to take more than 2 shots at anything.
Anyway, a job well done and I will recommend your work to others at every opportunity!

Mike

Parts came today, everything looks and fits good…If I do more CZ's the same conversion will be in store for them.
Glad I found you, thanks!
Dan

Roy,
Finally got the time to put the CZ 527 back together with the trigger guard and magazine that you modified.  The rifle looks great.  Thanks for the fast service and excellent work.
Lynn

Roy,
You do good work!! Fits perfect, looks great, thanks a million.
Dale

Hi Roy – just returned from a trip and unpacked the trigger guard you did for me. It's great and looks so much better than the original design.

Thanks very much

Tom

Roy  I got my clip conversion back yesterday and WOW what a good job you did.  I could not be more satisfied with your work.  I also have a cz 527 in the 204 ruger . the clip & parts for it will be in the mail today I want the same thing done to it(I cant stand to look at it after seeing your job) the check will be with it.  thanks for the superb job…….  lee


got my 204 clip back last week and it was a outstanding job.  thanks lee

Roy

The parts arrived for my CZ, and I want to thank you for turning them around so quickly!! Wonderful job, and my sincere thanks to you! Parts look really good, and I should get the rifle back together soon.
Thanks again!!
Don Simmons

Roy,
Got the parts back today- all I can say is WOW!!!! Much better looking than the factory parts. Thanks so much!
Mike

Hey Roy,

I got the parts, they fit and function great.  Haven't shot it yet but I' m excited to.
Thanks a bunch.

  Evan

Hello Roy.

Just a note of "thanks" and to say how much I appreciate the fine job you did on my CZ 527 parts.

My rifle now has a great new look that makes it match my six other CZ's.

Regards,

Ken

Roy,  The trigger guard arrived this afternoon.  It looks great, fits great, and cycles just fine.   Thanks for the quick turnaround.  You have a very satisfied customer.  Jimmy

Dear Roy got parts back looks great thanks looks like the clip will hold three bullets. thanks again.  JHD

Roy,  I am well pleased with the work and surprised at the quick turn around…..THANK YOU for the quality work and I will recommend your services to my friends and might have another one of my own to do at a later date…….may you stay as busy and you want to and God Bless…Tommy

Roy,  Just installed CZ parts, it's perfect. I've had this rifle for about 8 years and wish i would've done this a long time ago. I have another mag  want to get done in the near future, I'll email when its on the way.   Thanks again   SamC

Hi Roy,  Received the parts today. Everything fits and works fine. Thanks for the fast service and the gun looks great!   Have a great Easter holiday.   WL
 Hi Roy.  I just wanted to say thank you for the GREAT job you did on my 527 trigger guard. It makes it look like a new gun.  thanks again for the outstanding job. Bye for now. Ed.
Roy, very nice work. Improves the looks of my 527 fs and turn around was extremely fast, barrel hardly had time to cool. Thanx for good work, very pleased. Gary
Ray,   I received the parts and they look great.   Thank you   Matt
I rec. my CZ527 , 7.62×39 parts you modified in fast turn around time. They look and work great and magazine holds 3 rounds easily. Great work. Thanks Kenneth
Thanks so much for your time. Very impressive work. It is really very good.  Sincerely, Aaron
Roy, Parts arrived Kauai today. Gun reassembled. Looks great! Â Mahalo, Â Clyde
Roy, Received it and it looks good.   Thanks, Drew H
Roy, Â  Parts arrived today. Very nice work and very quick turn around. Re-assembled rifle and it looks great. Will air it out this week at the range. Â  Â  Â  Thanks again, Mike
 Roy,   I got the CZ 527 magazine and trigger guard that you recently modified.  It looks great.  Thank You,   Ed
Received and installed the parts today, looks so much better, everything looks and operates first rate, am very satisfied as I thought I would be, thank you very much!  AB
Roy, The CZ trigger guard arrived and it looks great.  Thank you for a great job and quick turn around…..Matt
Thank you for your excellent service,  quality, and timeliness.  I haven't taken these magazines to the range but anticipate good results. …..Tom
6-12-20….Got the parts on Wednesday and the rifle profile is so much cleaner. You do great work and the rifle looks and carries so much better.  The shortened magazine holds two rounds, correct?….Bob G
(Yes, two rounds in the magazine…..)
If you have any more questions, please feel free to call or email?..
Thank You
rvb100@comcast.net
rvbprecision.com
774-301-2329