My Marlin 1895 in 45-70 has proven to be an amazingly accurate rifle. I want to extend the reach of this rifle but I didn't want to use a tang sight as this would be fragile in a hunting environment and certainly not the type of sight one would use for quick shooting in the deer woods.
A Ladder Sight was what I needed. I ordered the "Smith Enterprise M-95 Long Range Sight" from Brownells http://www.brownells.com/.aspx/pid=18599/sku=851000046/Product/M_95_LONG_RANGE_SIGHT
When it arrived I was surprised to see it had no provision for elevation adjustment.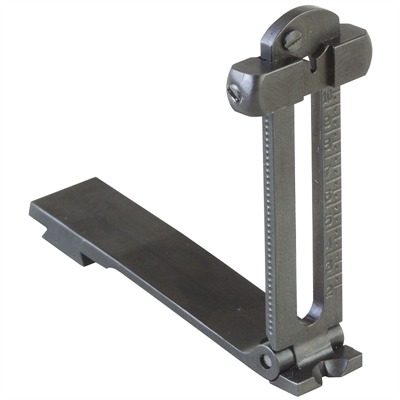 But I mounted it up anyways and just as I though, it was much to low and upon sighting in my bullets were hitting 6″ low at 50 yards. A modification was needed.
First order of business was to cut a thin piece of steel to be screwed to the bottom of the sight.
This piece of steel was drilled and taped for two 6-48 screws. One will hold the plate to the bottom of the sight and the other will be for elevation adjustment.
Once mounted to the sight the top view looked like this.
A small recess was ground out of the sight to access the elevation screw. The screw closest to the pivot (top screw in this photo) is the elevation adjustment.
The middle screw is holding the plate to the sight. And the bottom screw is used to secure the sight into the dovetail on the rifle.
It's time to mount it to the rifle and try it out.
Here it is in the down position:
And in the UP position:
The sight itself is made of spring steel, and in both the up and down position, it needs to "rest" against the barrel or in this case my additional plate, otherwise the sight will just flop around wildly. Not good for accuracy!
Lots more pictures here:
http://public.fotki.com/Rbertalotto/things-that-go-bang/marlin-1895g/
THANKS!