A few years ago I decided that sleeping on the ground was no longer fun. Having spent some time in Australia a few years ago, I became aware of Roof Top Tents (RTT). Seemed every other car and truck had one on top!
Once I returned home I did some research and found a "Used Once" Smittybilt Overlander on Craigs list and I bought it.
At first, I decided to build a trailer for it and tow it with my Toyota Venza SUV. Looking for better gas milage than I might get with my 6.4L HEMI RAM 2500. The trailer came out great and you can read all about that adventure here:
http://rvbprecision.com/rv-projects/overland-off-road-trailer-build-from-lowes-utility-trailer.html
My Venza offered 23MPG (V6) on the highway….But when towing this 1000 trailer the MPG dropped to 17…..I had reason to take my truck from Massachusetts to Georgia so I installed the Smittybilt tent on the truck for the trip…..And I got 17mpg! The ruck wasn't even breathing hard as that is the highway MPG I always get. But the Toyota, even with over 250HP V6, was obviously working harder. Made no sense to have the trailer, so I sold it.
But one problem with the Smittybilt being over 8 feet in the air …..was closing it up. What a pain! I had to carry a ladder with me and reposition it about 50 times to get everything tucked in…..And then THAT COVER!!! Lord Help Us!…Especially if it is raining. There has to be something better.
I did a ton of research and settled on the Roofnest Falcon "Wedge" type RTT. The thinnest and one of the lightest hard shell RTTs around.
I ordered it and was told it might take a few weeks to arrive. I had it in 8 days! What a surprise. In fact it showed up so fast, Roofnest was sending me emails on the shipping progress and it was already in my garage! Arrived in perfect condition…Not a scratch!
Since it was middle of winter, I set it up on my motorcycle lift in the garage and slept in it one night…..I had to do it!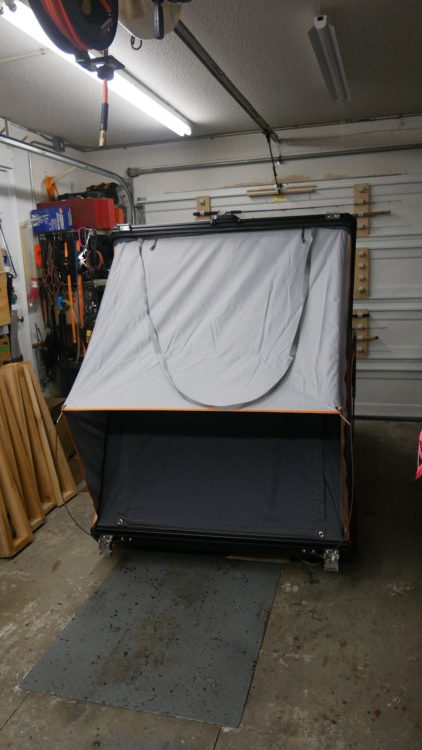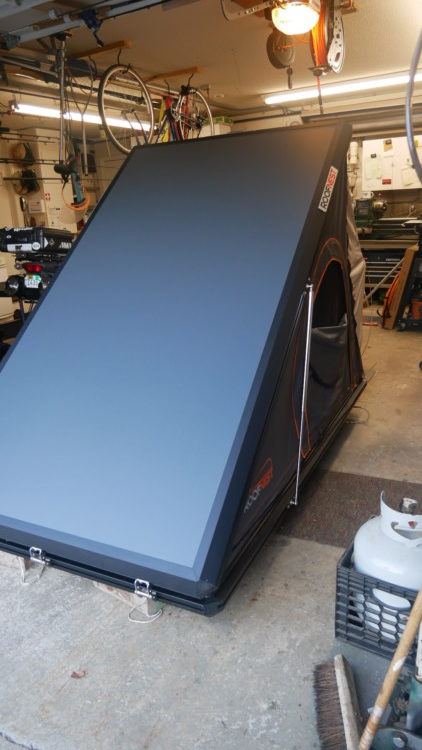 So now I needed to mount it on the truck and do a few modifications…..
At first I simply mounted it to the cross bars on my fiberglass cap like everyone else does…I didn't like that it was some 5″ above the cap. It didn't look good and I'm sure it ruined the aerodynamics of the truck.
I decided to mount the cross bars directly to the runners on the cap without the four mounts. And then fabricated hold downs to secure it from the sides rather than underneath. Some folks have voiced that this might not be approved as the side rails might not be strong enough. (It's your call….I'm not suggesting you do this) My civil engineering came into play as I looked at how the Falcon is built. Plenty strong enough. But the threaded inserts I made that slide into the Falcons side channels were made 3″ long rather than the 3/4″ that Roofnest supplied. This greatly spread the stress out over a much larger area. And I used all Stainless Steel 5/16 hardware…..(BTW, I was horrified when I took the RINO roof racks apart and found that four, 1/4-20 bolts was all that held the racks support feet to the cross bars! Can't tell you how many thousands of miles that truck and others (this cap has been on three trucks and well over 200,000 miles) and carried a canoe and two Kayaks at more than highway speeds from Massachusetts to Montana a number of times……And it never came off!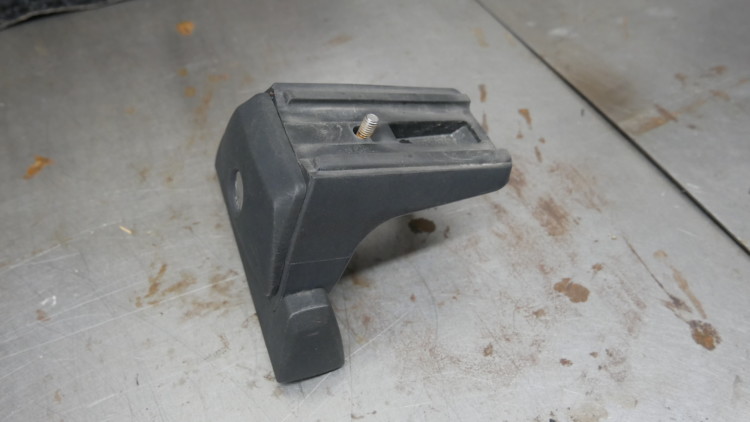 Here is a couple pictures of the fabricated mounts: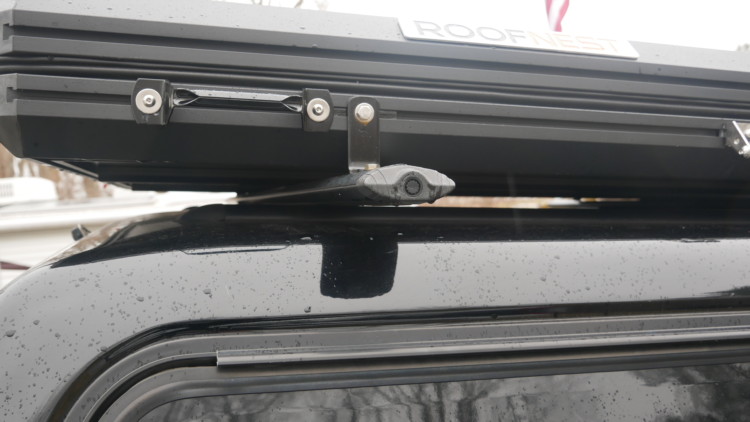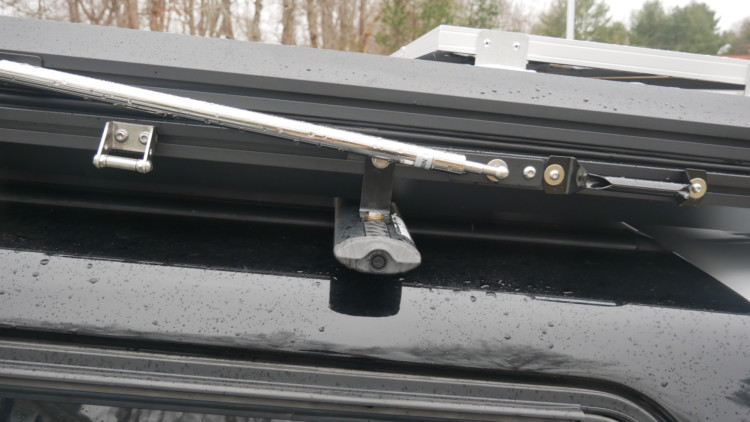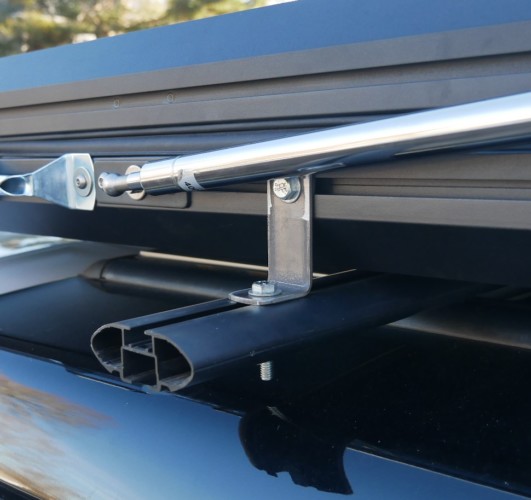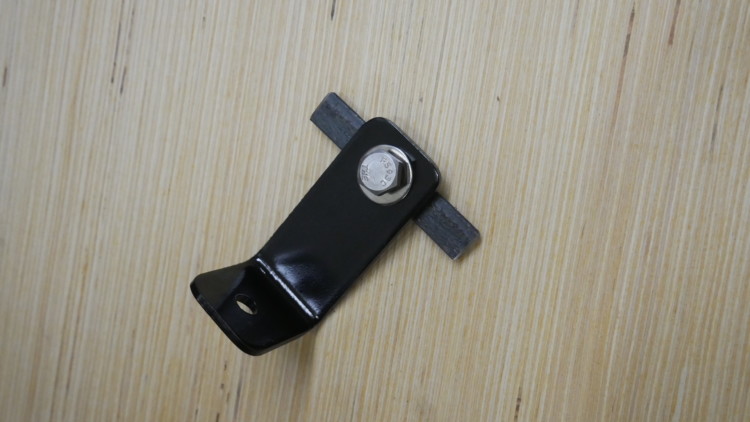 Next on the list was adding more handles. Although a ladder is not necessary to tuck in this tent, you do have to stand on the trucks running boards and do a little stuffing. Roofnest is very proud of their aluminum handles. I didn't want to spend that much. A trip to ACE Hardware and I found excellent, galvanized, garage door handles…..2 for $7!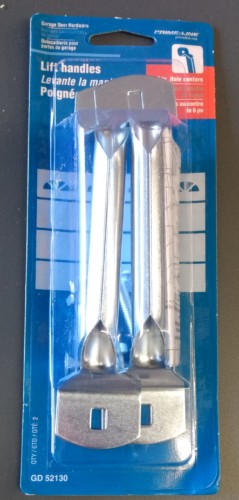 I made the threaded insert slides out of aluminum stock, drilled and tapped 1/4-20 and used stainless steel button head Allen bolts and Stainless Steel washers to mount them. Spray painted them semi-gloss black after a very light bead blast.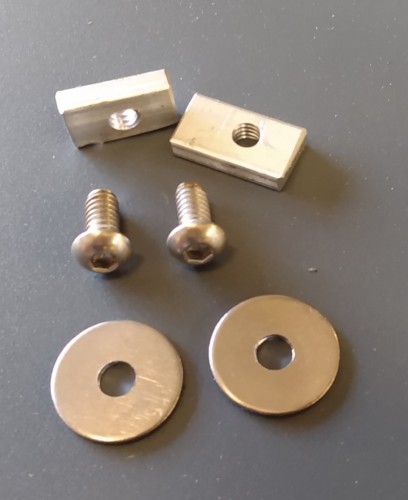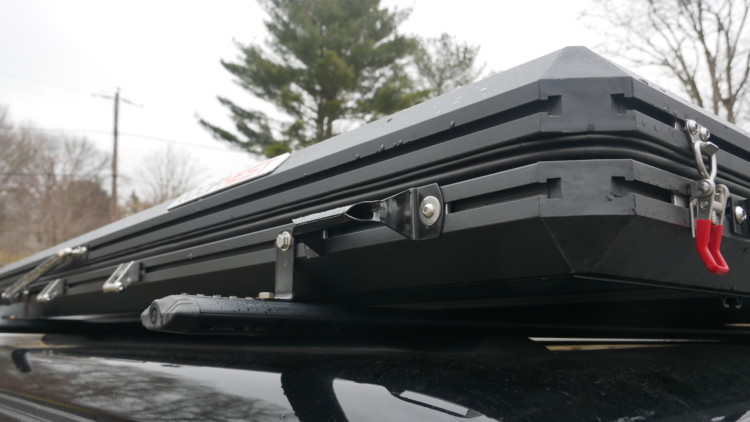 Next on the list was those darn locking clasps that Roofnest supplies. It takes all my weight to get the cover closed and latched and them I needed a prybar to get the clamps open! Might be a whole bunch easier on top of a lower vehicle. But up on the cap it was hard to put enough force on the top to lock it down.
A search on AMAZON for some type of Toggle Clamp brought up page after page of options. I settled on the smallest and strongest clamps I could find. I've used these clamps to hold all kinds of things down on my boats. And the conditions those boats have been in the North Altantic is a testament to their strength!
YUEPIN Toggle Clamp Pull Latch 304 Stainless Steel Holding Capacity 400Lbs…… $14 for two. Hard to beat.
I replaced the factory clamps with these. Again making aluminum inserts and stainless steel button head Allen bolts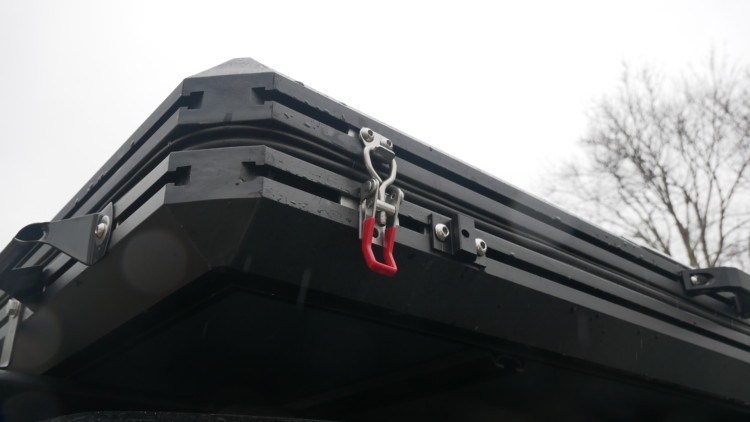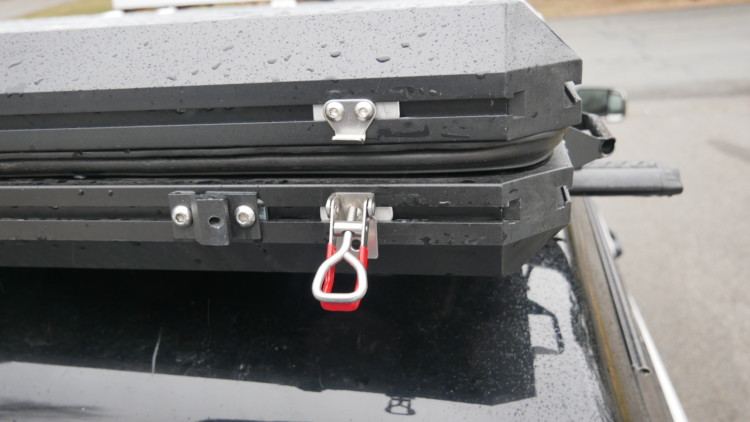 This is EASILY the best modification I did so far…….And at 400 pounds of pulling power, it ain't going anywhere!
VIDEO:
https://public.fotki.com/Rbertalotto/toy-hauler-and-truc/roofnest-falcon-rtt/p1050253.html
Next up is SOLAR…..
A 12v / 120w panel was mounted to the Falcon. I fabricated L brackets out of 3/16″ 2″x2″ aluminum angle. Pop riveted to the roof and secured with 3m 5200 Marine Sealant and Adhesive. And then a piece of EternBond over that. If you have never used 3M 5200 you have no idea what an amazing, high tech adhesive this stuff is! We use it on boats to secure all kinds of things and have never had a failure…. Be sure whatever you are putting in place, you want it there. Because you are never going to remove it!…And then EternBond is a "MicroSealant tape that once you put it in place…you are NEVER going to remove it also. This is how I secured four larger panels to the roof of my Toy Hauler travel trailer. It's been 7 years and near 50 thousand miles on that trailer with no issues.
http://rvbprecision.com/rv-projects/solar-install-grey-wolf-19rr-toy-hauler.html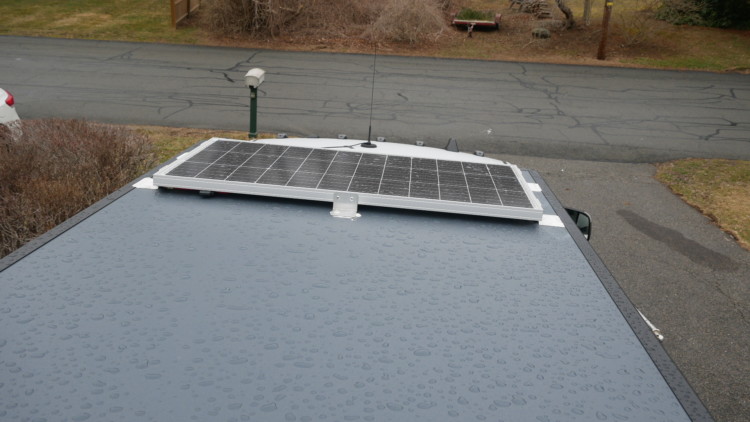 I mounted it towards the front, but in hindsight, I wish I had mounted it towards the back. Too late now! Towards the back it would be higher when the top was up and when loading a canoe on the Roofnest cross rails I bought, it would be out of harms way for the initial set down of the canoe. Live and learn.
I ran the Solar power down to the cap's "Power Center"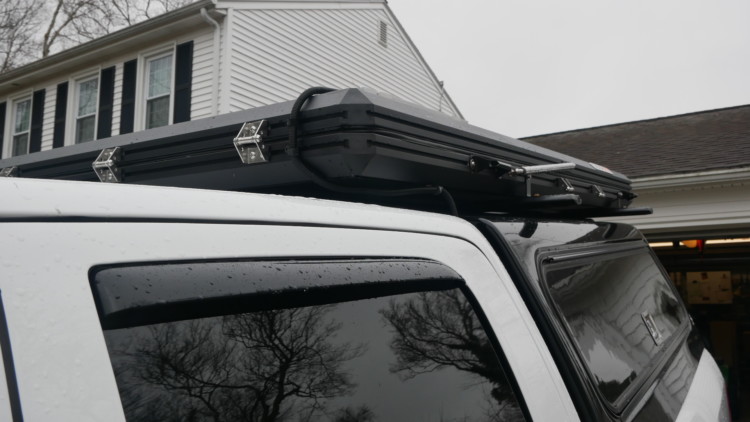 It does make a nice place for a Light Bar though…Need to look into this…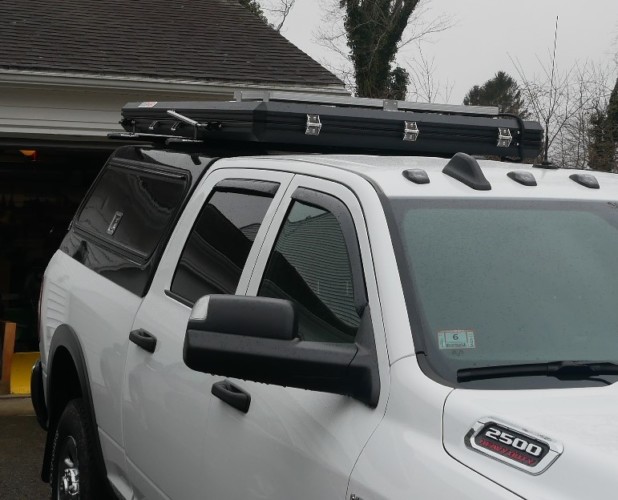 The solar panel charges an AGM battery (Will be replaced with Lithium this week!) mounted in the bed of the truck……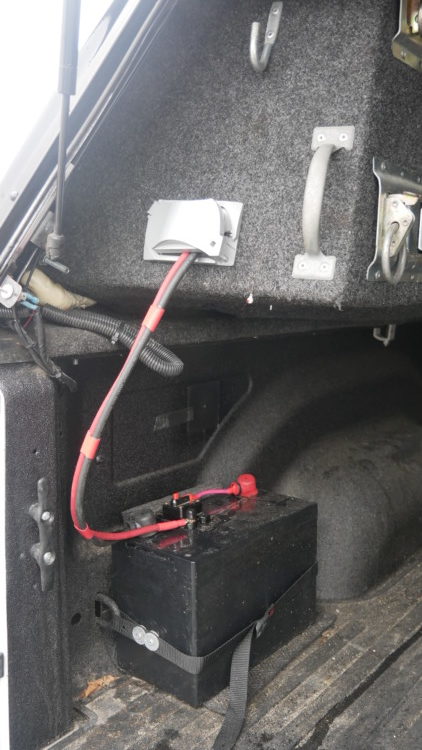 Which powers an inverter, DC Refrigerator, portable waterpump for a shower, diesel heater, the RTT lights and device charge station, TV, lights in the cap and a portable winch if needed. All the solar "stuff" is mounted in one of the trucks side boxes…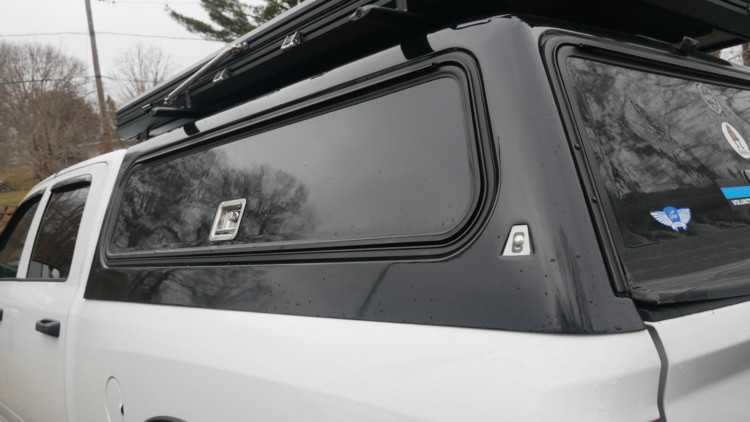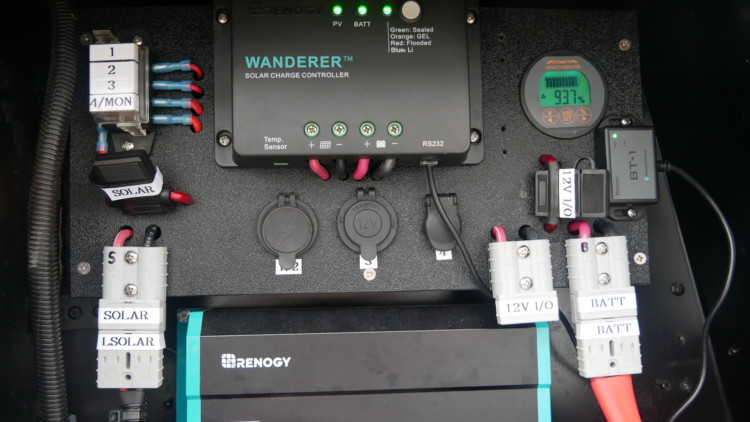 ( I need to do an article to this web page on this whole Power Center)
Next up was the awning to be mounted off the back. When camping, I have a slide out DC refrigerator and a cook box that rests on the tailgate. I do all my cooking here. I needed some kind of cover. The nice thing about the Smittybilt is the way I had it mounted, it covered this area beautifully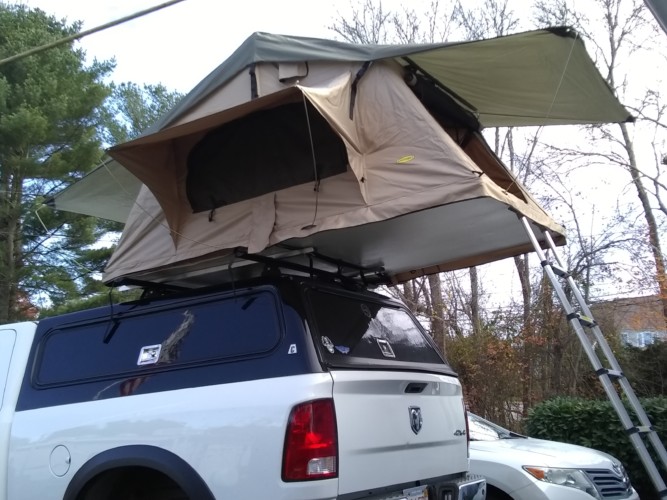 But the Roofnest Falcon does not afford this protection.
I've used DANCHEL retractable awnings in other builds and for the money, they are hard to beat.
I ordered a 5′ X 6.5′ version for this build from AMAZON:
DANCHEL OUTDOOR Retractable Vehicle Awning Overland Camping, Waterproof Rooftop Tent Awning Shelter SUV Truck 4 Runner Accessories Gray(5×6.5ft)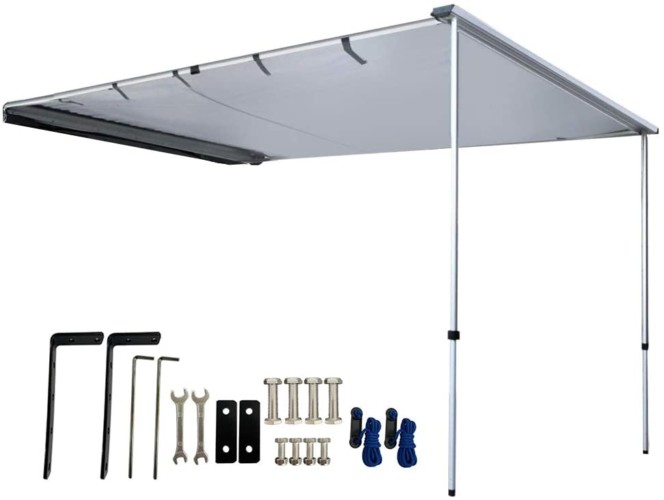 The awning comes with these two "L" shaped brackets that would usually be used to mount it permanently to the side of the vehicle or the RTT's frame. But I found with a little bit of filing, they slide right into the Falcons mounting tracks on the underside of the tent.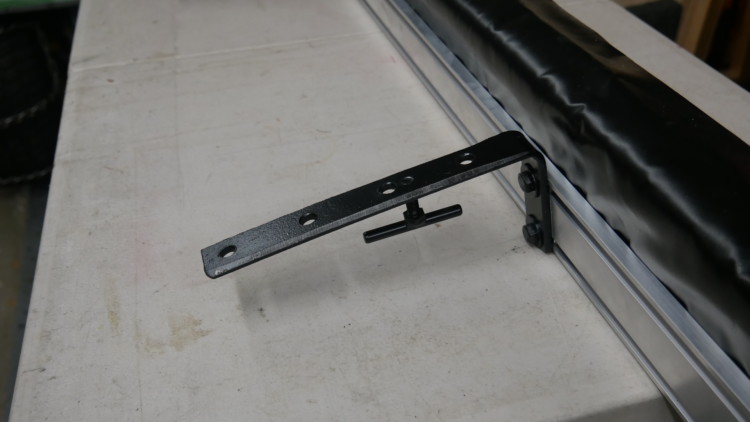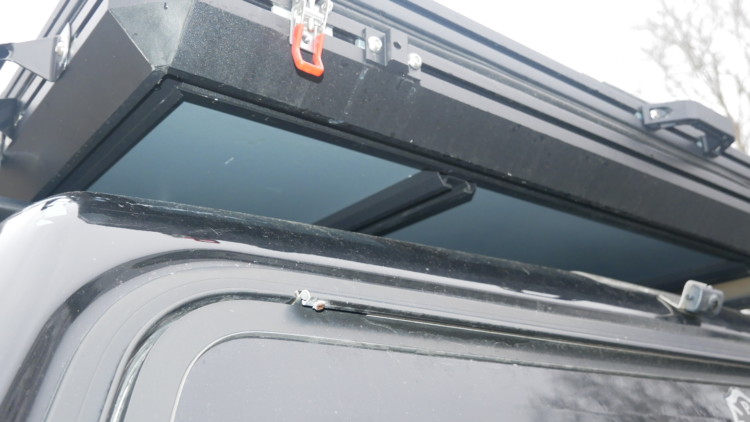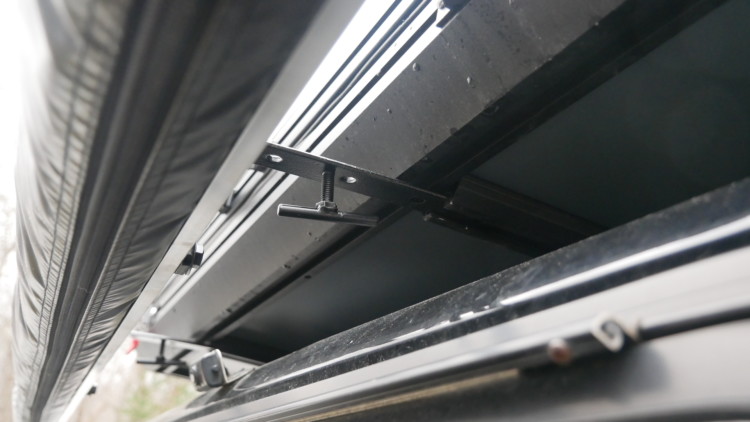 I drilled and taped a hole and welded up a little "T" handle bolt to secure it.
I can travel with it installed, or deploy it once at the camp site.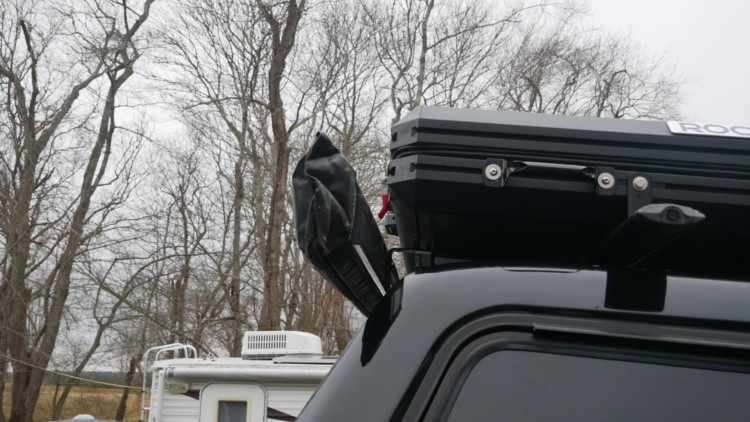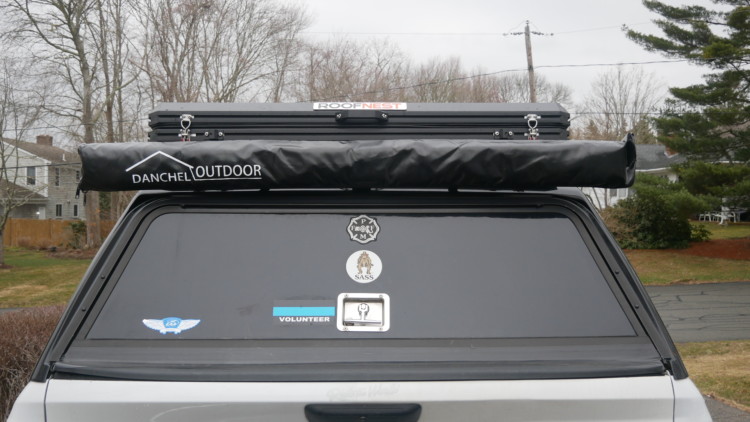 I'm going to make up the same mounts for the side of the cap and order a bigger awning for sitting under or staying out of the rain….
So that's about it for now……Great fun modifying these tents…..
If you want to see other endeavors that occupy my time, check out my whole website….. http://rvbprecision.com/
(Make sure you have plenty of time……lots of articles there!
Thanks for looking…Be Safe!