I ordered a 4 channel/tire Truck System Technologies 507 TPMS (TST507) tire pressure monitoring system from  http://www.TechnoRV.com TechnoRV –  RV Technology Specialists.
Great price, free shipping and I had it in two days!
PACKAGING:
Nicely done with lots of extra O rings for when you need to change the batteries in the tire sensors in a year or so.
A cigarette lighter cord and a hard wired cord is included.
A dash board mount and a suction cup window mount is included
Three different installation instructions are included. Seems they kept writing instructions to make it easier. The single sheet that looks like the last iteration was the easiest to follow, along with the TST YouTube video. TechnoRV also has a video on their web site to aid in programming.
https://www.youtube.com/watch?v=17TkBXhWnPY
SET UP / PROGRAMMING:
I suggest you view the number of YouTube videos available (Google Search) before you do anything. The programming is a bit confusing as it uses a relative few buttons to do multiple functions. If you go slow and be deliberate, it is quite easy. If you can't figure it out, this is why God invented 12 year old grand children!
OPERATION:
I only installed it on my pick up truck for now. I'll order sensors for the trailer once I'm sure it is accurate and robust enough. (It is winter when I write this and the trailer is in a snow bank anyways… 🙁
Sensors were programmed and installed on the four tires. I did not replace the rubber valve stems with steel as suggested by others. Reports from others is that the sensors are so light they do not add stress to the valve stems. I agree. Time will tell.
The kit is available with standard tire sensors(you must remove to add air)
and "Flow Through sensors that you can add air without removing the sensor.
I went with the NON-Flow Through sensors. I'll have to remove them to add air if needed. Time will tell if this was a good decision. But on my truck the valve stems are about 90 degrees perpendicular to the tire and I had concerns that the longer "Flow Through" sensors might get damaged on curbs or when I take the truck on rough roads.
The system came up and started to send PSI and TEMP immediatly. To test it, I lowered the air pressure and raised it with my compressor and in both cases the reported PSI was extremely accurate and the alarm sounded at low and high PSI parameters I set. The temperature is reading the exact same from each tire (37 degrees in their static state)
The interesting thing is the monitor is sitting here in my office, some 100′ from the truck, through a number of walls and an aluminum garage door and it is reading fine. This leads me to believe that it will easily work on a relatively long trailer tow vehicle combination…..If not, an amplifier/repeater is available to boost the signal from the trailer.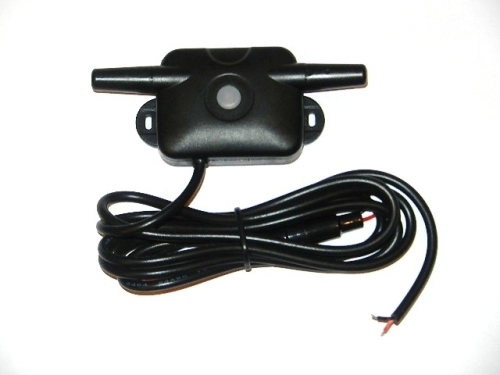 All in all I'm very impressed with the quality of construction and performance. The monitor has the feel of a well built cell phone. Nice glass or heavy plastic screen, I can't tell which. Brass antenna connections. Very secure power cord plug/jack.
The monitor has an internal Lithium Ion battery that should hold the charge for days or you can hard wire it to 12V with the supplied cord and not worry about the internal battery.
The tire sensors include anti-theft collars that I chose not to use. Maybe I trust folks too much. We'll see
You can read all about it here:
And a great FAQ is here:
Hope this helps if someone is thinking about adding Tire Pressure Monitoring to their rig.