The rear wall of this Forest River 19RR is an empty spot that I usually set up a folding table in front of to create more kitchen space or a place to work if I'm working on the road.
With the addition of the ramp extension I built a few weeks ago     http://rvbprecision.com/rv-projects/forest-river-grey-wolf-19rr-toy-hauler-ramp-extension.html                this allows me to create a fold up table on the back side of the extension.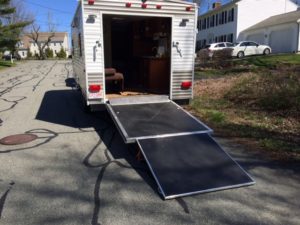 If you don't have the extension modification, you can still build this fold up table, but as you load your "toys", you will be driving over the back side of the table. Not so bad and not a real impediment to loading anything with wheels.
I decided to make my table 20″ deep by 48″ wide. I started with a trip to Lowes Home Improvement and the purchase of a pine board 20 X 48, a 48″ piano hinge, two steel shelf supports, two 12″ piano hinges a couple of cabinet door magnets, two barrel bolts and a can of semi-gloss polyurethane.
First order of business was to give the pine table top four good coast of poly. Then it was a simple matter of attaching the 48″ piano hinge to the back and to the ramp at a 30″ height from the floor.
Next the 12″ pieces of piano hinge were attached to the steel shelf brackets so they can fold up out of the way when the ramp is deployed.
And lastly, a couple of cabinet door magnets hold them in place.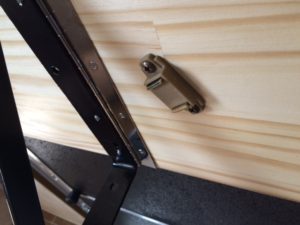 A pair of barrel bolt locks everything down for travel.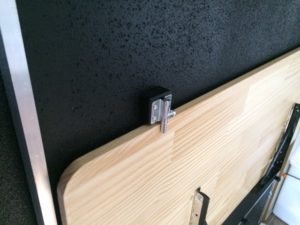 As you can see, the table top is totally out of the way when the ramp is deployed
This is easily one of the best modifications I've performed on the trailer. The extra work space is fantastic and the grand kids use it as a dining table when traveling with us. I might actually replace the pine table top with a piece of man-made stone counter top for increased durability.
Thanks!