So yesterday was my birthday. My wife took me out for a real nice lunch at the Airport Grill in New Bedford. One of my favorite resturants. After lunch we decided to go shopping for new kitchen appliances. I was shocked that a gas stove cost $1000!!! and a refrigerator could easily run twice as much.  We decided on a nice set of Bosch units. OK, that trauma was over. So today I decided to buy MYSELF a birthday present. I've had my eye on a new table saw and Lowes had a real nice PortaCable on sale. I got up early and went and bought it.
Now I had a new table saw……I need to make something!
I'm a "pressaholic". I suffer from Pressitis. This is an incurable disease amongst metalic cartridge relodaers where we justify that it is much more efficient to keep buying more and more reloading presses rather than simply changing out the dies as needed. (If you are not a reloader, you have no idea what I'm talking about!)
This is a few of the presses in my collection.
And here are a few more.
I wanted a way to quickly change presses at my reloading bench as needed. Up until today, I had to unbolt one press and bolt another down to the bench. Took way too much time. Had to be a better way.
The folks at LEE Reloading Equipment have a very nice system of a metal bracket and plywood plates that you mount your press to and then simply slide them in and out of the bracket as needed.
I buy lots of LEE reloading eguipment. You simply can't beat it for the price and I buy everything from Tital Reloading    http://www.titanreloading.com/ , a husband and wife team that are a joy to deal with.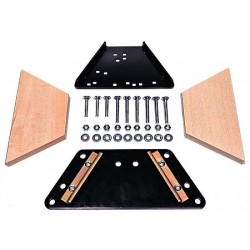 This is the LEE system. Amazing unit for the money. Under $25
But if you know me, I like to make things myself.
So I found a piece of 3/8″ plate steel in the scrap iron pile and cut it to 6″ X 6″
I then cut two pieces of  3/4 X 3/4 angle iron to a length of 5 1/2 "
I welded these two pieces of angle iron to the sides of the plate, using a piece of 3/4″ plywood that I'd be using for the press mounting plates as a spacer. (What you don't have a welder! Don't you know welding is knitting for men!) If you don't have access to a welder, any welding shop will do this for a few $$ or a six pack.
I shimmed it a bit before I welded it with two thin washers so it was just a bit proud of the thickness of the plywood.
This plate was then bolted down to the corner of my reloading bench.
I had purchased a bunch of Toggle Clamps for some wood working fixture hold downs. I had a nice heavy duty one as an extra. This Toggle clamp was mounted to the rear of the mounting plate.
Toggle Clamps have amazing hold down power. This clamp will be used to secure the press mounting plate and stop it from moving. It will not take the full force of the press stroke.
So, into this bracket slides a simple 6″ X 6″ , 3/4″ plywood plate.
And onto this plate is bolted the press using flat head bolts from the bottom.
Once the Toggle Clamp is locked down, It ain't going nowhere! Solid as a rock!
So now I have a very sturdy and quick way to change out my presses, but I need a way to store them. With the new plates attached this is quite easy.
I made a simple ahelf with a little lip in the rear. A piece of 1″ X 3/4″Â  stock as a spacer and a 2 1/2″ wide board screwed to the top.
The press mounting boards simply slide under the top board and sit there pretty as can be, waiting to be called upon for duty!
I added one of these "Storage Units" to one of my bookcase shelves for more presses.
So that's it. A quick project that really will make reloading a bit easier.