PROPER 17HMR BORE GUIDE!
When Hornady developed the 17HMR rimfire cartridge, they really hit a home-run! And the rifle manufacturers turned out a plethora of rifles to chamber it.
But unlike the 22RF cartridge, which many seasoned shooters will tell you, might never need to have the bore scrubbed, the 17HMR with its "real" copper jacketed bullet and its extreme velocity, needs bore cleaning often.
The problem is, no one makes a "proper" bore guide for this type of rifle. Most 17HMR rifles are nothing more than 22RFM rifles with a 17cal barrel. And many of these 22RF rifles have one issue when you try to use a standard bore guide that protects the delicate chamber edge and the bottle neck area of the chamber. A fixed ejector is in the way.
This little "shark fin" is right in line with the chamber and is fixed. It doesn't move out of the way. Therefore the bore guide you might use for your centerfire rifles will not pass by and work in this rifle.
Bore guides exist for this type of action, but they are open bottom designs and do not enter the chamber and protect the delicate chamber edge or the bottleneck area of the chamber.
Enter the RVB Precision Bore Guide for the 17HMR rifle.
My bore guides is made of 7075 anodized aluminum tubing. Totally unaffected by any type of cleaning solution you might use.
One end is swagged down to fit completely into the chamber of a 17HMR rifle. There by guiding the cleaning rod perfectly to the throat area and the bore without touching the chamber walls or edge.
This aluminum tube is thin enough to pass by the ejector, yet it is extremely rigid being made of hard anodized 7075 tubing.
The tight fit of the bore guide in the chamber also stops cleaning solvents from getting into the actions trigger, magazine etc
Once the bore guide is in place, a supplied aluminum bushing is slid over the tube.
And into the action to keep the tube aligned. Perfect!
A cleaning patch and a 17 caliber cleaning rod is inserted into the bore guide and you end up with a nice clean bore.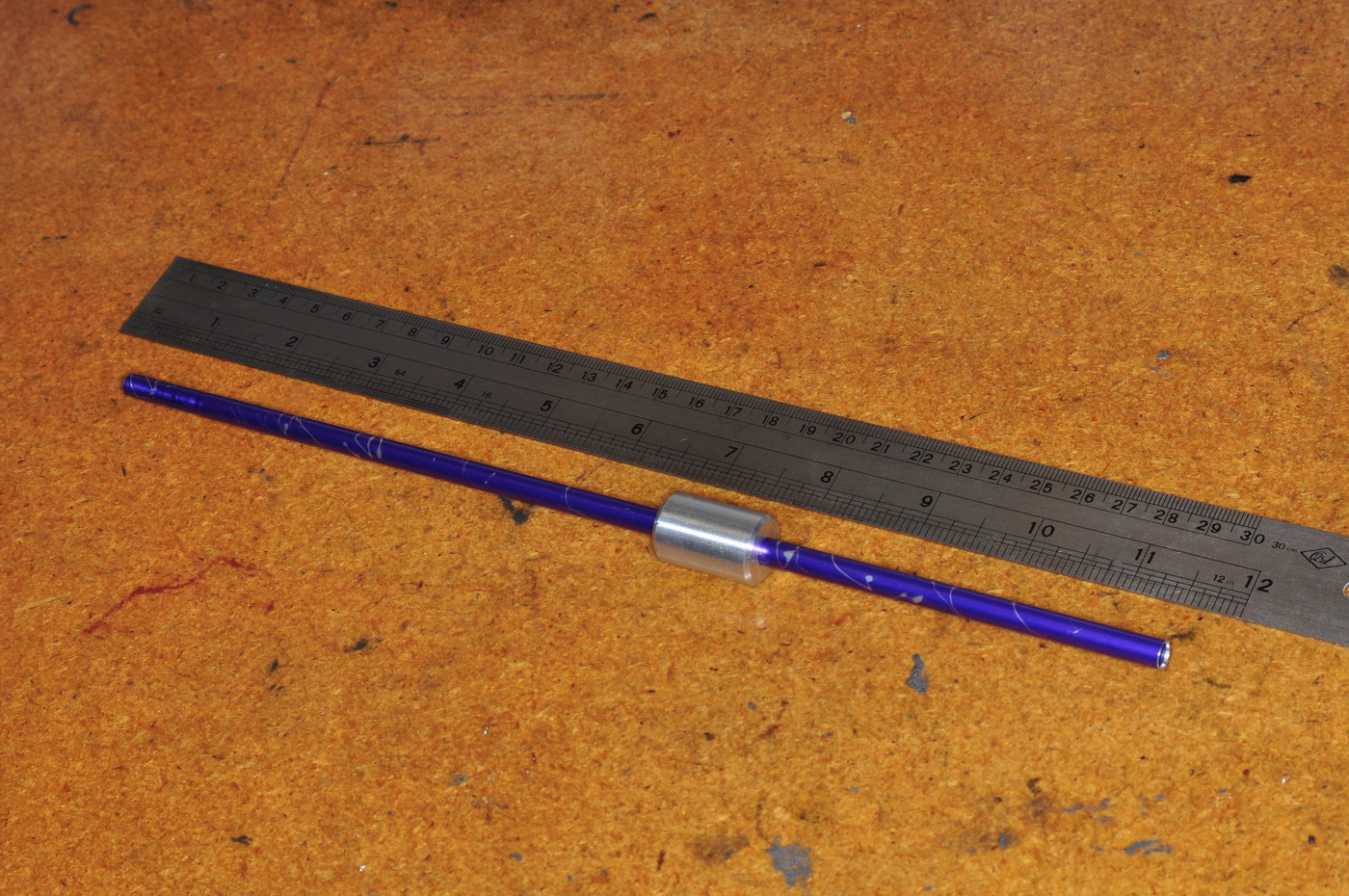 NOTICE:  RUGER AMERICAN
Folks have been using my bore guide with the Ruger American. But they do not use the bushing as the Ruger does not use a round bolt. This doesn't seem to be an issue as the bushing only serves to stabilize the guide. To develop a bushing that would fit the Ruger American would take too much CNC effort and would make the guide too expensive. We still ship the guide with the standard bushing so it can be used on other "round bolt" guns. Or the bushing could be modified by the buyer with files an lots of elbow grease to fit the Ruger American.
HOW TO ORDER THE PROPER 17HMR BORE GUIDE….
NOTE: Price Increase….
Due to the huge increase in shipping , I've had to raise prices a bit. When I started shipping these bore guides the cost to ship by Priority Mail anywhere in the USA was $4.30….Currently it is $10.20 !!!!…..So I've had to raise the price from $24.95 to $29.95…..
You can send me a check for $29.95 (personal check OK) or you can pay by PayPal ($29.95 to rvb100@comcast.net) This price includes shipping to the lower 48. (Canada is $29.95 + $37 shipping = $66.95 USD)….
(Anywhere else, send me an email with your shipping address and I'll get back to you with a shipping quote…See note on Europe shipping below)
If you are paying by PayPal be sure to let me know what the funds are for in the comments section and include your shipping address. You'd be surprised how many fail to let me know where to ship it!
The minute I receive funds the bore guide goes in USPS Priority  mail. You will receive it in two to three days.
Send check to:
Roy Bertalotto
1 Country Club Blvd
North Dartmouth, MA 02747
PS….Please let me know how you found out about our bore guide. This would be greatly helpful. Thanks!
 UPDATE!!!
The "Proper 17 HMR Bore Guide"  is now available to Europe. I'm not sure where they ship to. A quick call or email can figure it out for you
RIFLEMAN FIREARMS
Unit 11 Bowdens Farm Business Park
Hambridge
Langport
Somerset
TA10 0BP
01458 253700
THIS JUST IN!!!!
A fellow was inquiring if the Proper 17HMR Bore Guide would work with the new SAVAGE A17 semi automatic rifle. I had no idea as I don't have access to this rifle. So I sent him a Bore Guide to test. He just got back to me that "YES" it will work just fine.
Thanks
Roy
Here's what a few folks are saying:
8-11-23
Mr. Bertalotto, the 17 HMR Bore Guide has arrived.
Thank you for the prompt completion of my order.
The Bore Guide is a well thought out product and most importantly, it is SIMPLE.
Simple is GOOD.
Thank you also for the instructions.
L. A. Garcia
8-10-22
I got my package today…..WOW I have a Ruger precision 17HMR and it was a real pain to clean. The cheek weldwould get in the way so I had to loosen it to get a rod into that small opening. This bore guide made it so NO MORE having to reset my cheek weld and LOP every time I cleaned.  My A17 is a lot easier to clean also…..DR
Thanks Roy,
received my package last week.  Works Great!  Much appreciated!
Casey
I got it,perfect,it also work on .17 WSM,good job,thanks again and take care china virus. ….Serafin
I received the bore guide last Friday, cleaned my rifle the next day. It worked like a charm. I'll spread the word. Thanks once again!
Dennis
  Hi Roy.
  I bought 2 of your .17 bore guides last year – work great in Savage A17 semiautos (Savage actually makes that gun cleanable from the action. Most semiautos have to be cleaned from the barrel end.) Just wanted to let you know that I recently purchased a Savage BMag .17WSM. Your bore guide works great in that gun as well! Thanks for doing it. Hopefully you are still making them.
  Also, wanted to let you know that your advice for a bore cleaner – Bore Tech Elminator- was spot on. It has no odor and it gets bores squeaky clean. I actually have to shoot my A17's 5-10 times to foul the bore to get them to settle down to a really tight pattern after I've cleaned them.
  Not sure about the .17WSM. That round looks dirtier (more carbon fouling) than the .17HMR. Not a problem, just an observation.
Hope all is well with you.
 Jim
Roy,
Your  bore guide works great.  Such a simple device that does such a perfect job.
Mike M, Utah
Roy,
Got the bore guide.  Works perfectly!  Thanks a million.
Got it Roy…….
Tried it out already and it's PERFECT………
Many thanks,
John N
Hello RoyB:
Your 17 HMR Bore Guide is awesome! I used it for a Winchester Low Wall, so I cut the length of the tube in half. The collar stopped right at the action and helped center/hold the guide.I will bet you can sell more of these!I will try to make a post on the 17HMR website I just joined, showing the gang there how well it works for my Low Wall.This is the BEST thing to come out of Mass in years!(I can say that… Was born down there…)Tight groups!Old No7
oldnosevenHey Roy,Great product.
Thanks!HB, Montana
Hi Roy,
I just got done using my new bore guide for the first time and I must say it is a really great tool.  Much much better then the bottomless guides we've used all these years.  You were also right, it doesn't need a solvent port, just a towel placed under the end and good to go.  The tiny diameter of a 17 caliber bore and the tiny patches don't require a lot of solvent to be pushed through the guide.  I bet the curve will settle in even better the more it's used.  Great guide and great price Roy.
Take care,
Dave T
Roy,received the bore guide and it works great!
Thanks
JoeB
Just get the RVB Precision bore guide for .17HMR, great tool at a great price. It is soo much better then the open bottomed bore guides we used for years, so simple and so effective and fast and neat and clean, just a great tool. If you all own a .17HMR you need this tool.
Dave T
Roy,  Thanks for an amazing product. My guide arrived today used it and loved and  the ease of use and the joy of a bore guide that actually functions in my 17 hmr rifle…Many Thanks…….Eric
Roy,
I got your 17 HMR guide.  What a simple and elegant solution you came up with.  Any chance you have one is this that is necked down small enough for 22 long rifle or 17 Mach 2?
Thanks,
Bill
(Hi Bill,
It really is pretty neat isn't it! Thanks for the kind words.
I tried making one for 22RF and 17M2 as I get asked all the time…. but it can't be done. The aluminum tube wall is simply too thick to allow the larger 22rf cleaning rod to pass. (if I use a thinner wall tubing, it collapses with use)
I do know folks are using my 17HMR bore guide on their 22mag rifles with a 17cal brush.
But there really isn't a needed and a market for a 22rf version as most folks rarely if ever clean the bore of a 22rf. The 22rf simply does not have the performance to foul a bore like the 17HMR does.)
Roy,
Just wanted to let you know that I received my bore guides today and I have to say it is the best I have used for the 17HMR. Works great on my Cooper, Anschutz, and Ruger. I have probably spent over $200.00 on other bore guides that doesn't  work very well. You hit a home run for all of us that wants a proper working bore guide for the 17HMR
Many thanks, Tom,……..Centre, ALABAMA
I recently received a RVB Precision bore guide.First of all this seems to be a top notch company and I base that statement on the following reasons:
1) communication was great
2) product shipped out the moment funds were received (despite the fact that it was around the holiday season).
3) I received the product in a well packed box
4) and although not really needed, it arrived with detailed instructions.After using the RVB bore guide, I could not be happier with it's performance.  Although I have not tried some of the bore guides listed in this post, I can tell you that this one is up to the task and I could not be happier with it!
TB Colorado
Hey Roy,  your tool works terrific in my CZ 452 American.  The shorter version that you sent is perfect with my 30″ cleaning rod.  Very simple design and nice quality.  I like the way the bushing stays put when you squeeze the trigger and slide it into the bolt.  Thanks for your extra help.-Mike
Roy,
 Got the guide Monday, used it tonight and it worked great. It's a good design, good price and I'm very happy with it. Thank you.
Patrick
Dear RVB,
Had  a chance to try the 17 HMR bore guide; works great–just the right length for a 22″ barrel and a 30″ cleaning rod.
Thanks for the service.
Monty
Hello Roy,
              Arrived today excellent service thankyou, works a treat.  Kind regards Alan W… UK.
Hi Roy,
The bore guide arrived, fantastic, thanks so much for firstly making it, then secondly mailing it to me in Australia.
Great service, if only you were closer I would pat you on the back and say thanks to you in person!
Regards
Mark
Got my bore guide a couple of weeks ago. It works great, makes cleaning almost fun. Thank you, Andy
Hi Roy,
Just to let you know your cleaning rod bore guide performs perfectly on my Savage 93R17TR rifle time after time, no leaks, no bent or damaged cleaning rod. I used it lately on a friends new Savage 17HMR to remove some preservative coating from within the new barrel to facilitate his being able to run a bore snake through it, all went well and he will probably be contacting for a purchase of the same. American ingenuity, thinking out of the box, call it what you like, it's good knowing people like you are around for people like us. This is indeed a K.I.S.S. cost effective solution that takes the work out of work. Good Job.
Thanks
John M
Got it yesterday and used it this morning thanks a lot Roy works perfect!!!
Jonny
Thank you Roy this is excellent mate. Works perfect. Makes cleaning the 17hmr barrel enjoying.
Akis
Finally got to Tennessee where my Savage B Mag 17 is.

Verdict: It works. Thanks Ken
Thanks so very much for your bore guide. It worked great on my savage 93 R17 fvxp.
It worked just like you said it would. …RR
Roy : The 17 HMR Bore Guide arrived yesterday .It works good ; just what I needed . Thanks .Murray (2-5-19)
Roy,
Just a little note to let you know I used your bore guide over the weekend to clean my Savage BMAG Target .17 WSM after shooting 50 rounds at the range.
It was easier to start the rod down the barrel than ever before.
It still wasn't an easy task to clean this gun (probably never will be), but it was easi-ER. And that's an improvement over my teflon bore guide.
Respectfully,
Alan (12-2-19)
12-24-20…
"Ray"…. I purchased your bore guide and it works AWESOME!! Add Ruger Precision Rifle to the list of rifles that your guide fits. Thanks again and have a good day…..Gary
2-10-23…
Bore guides arrived today and I must say they look great! Thanks again Roy and have a great weekend!
John