No, NOT that Hepburn…
I'll leave that up to Humphrey Bogart…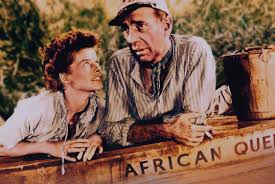 I'm talking about THIS Remington Hepburn..

I've always had a lust for a Remington Hepburn ever since I attended my first Schutzen match a number of years ago. I saw a couple fellows shooting them and I just thought the whole side lever thing was real neat. Especially shooting off bags or cross sticks. So much more convenient than an under lever.
I bought this book and kept it on my bed side table for month, and searched the internet in vain for an affordable Hepburn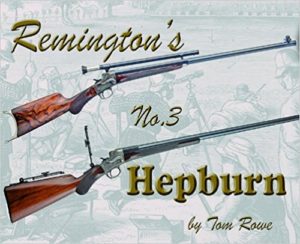 If you want to read all about the history of the Remington Hepburn, I suggest the NRA Museum site:
Since I could never find something my meager gun allowance would afford, I decided to build one from a kit
I contacted Upper Missouri Trading Company http://www.uppermotradingco.com/  and ordered one of their kits. And after five years it still sits on my reloading bench waiting for me to retire and finish it!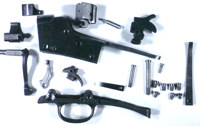 But then I got extremely lucky! One day, cruising the various used gun lists on line, I saw a very nice Hepburn on auction, with an extremely low, no reserve bid, and the auction was ending in a few minutes. I placed a very low bid and won! I couldn't believe it. Now I waited to see what arrived in the mail.
When it showed up it was 10X better than I expected! Everything worked. The wood was perfect and looked great. Totally un-refinished. A major score!
The only issue was the chamber. Someone had reamed the 32-20 chamber out to 32-40
I did a chamber cast to confirm. The bore was excellent so I loaded up some "standard" bullet weight 32-40 cartridges and headed to the range.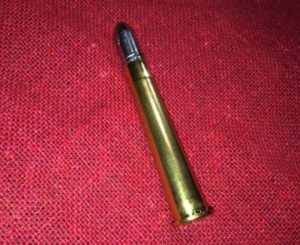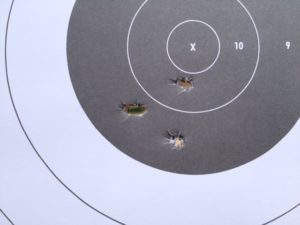 The longer 32-40 bullets would not stabilize…..UGH! This barrel had a twist  for 115g 32-20 bullets. Not the longer 32-40 pills.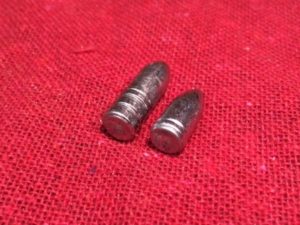 The rifle was originally a 32-20. It will return as a 32-20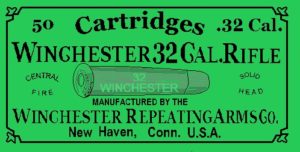 I thought about simply lining the chamber and recutting it to 32-20 but the throat would have ended up about an inch in front of the bullet. Lining the barrel was the only option.
I won't go into all the details on how I bore and line a barrel. This is covered on a few other articles here on this web site.
http://rvbprecision.com/shooting/1873-winchester.html
http://rvbprecision.com/shooting/bring-another-one-back-dead-1885-winchester-low-wall.html
Fortunately, unlike the Winchester 1885 Low Wall referenced above, this barrel was removed which made working on the reline and extractor cut much easier.
But there were other issues that needed attention.
First, the extractor had been shortened to work with the much larger rim of a 32-40.
Second, someone had cut an extra dovetail into the top of the barrel
Third, the front site dovetail was over sized and crooked
Other than that, I was good to go!
To extend the extractor I simply TIG welded a blob of steel onto the existing extractor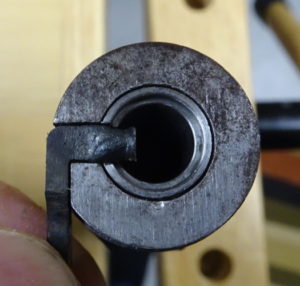 And then filed it to fit the new chamber rim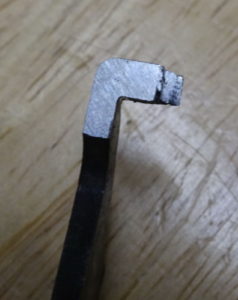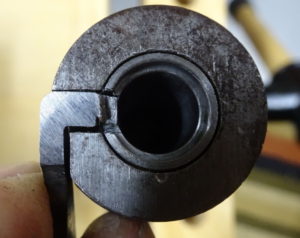 With that done, it was now time to address the two dovetail slots on the top of the barrel that I wouldn't be using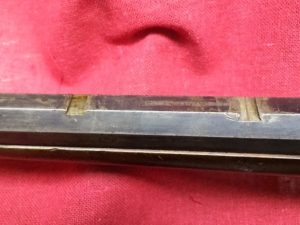 On the mill I machined a couple of "slot fillers"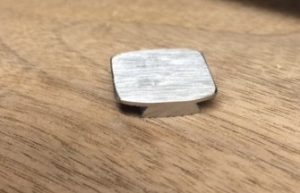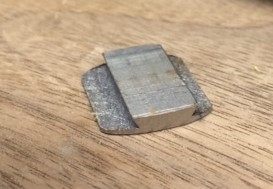 Polished and blued and installed….Done!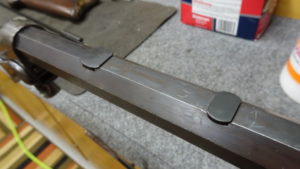 The front site was the most difficult part.
The dovetail was way over sized and crooked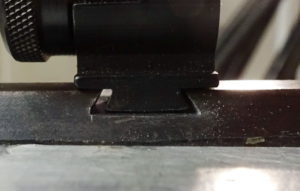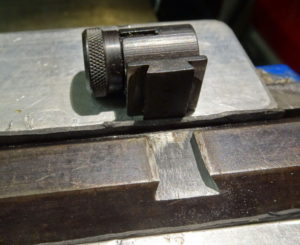 I hate using any type of filler with front sites and since it was a few degrees crooked, I decided to file the dovetail larger and straight and modify the front site to fit
First the dovetail on the Lyman #17 front globe site was machined off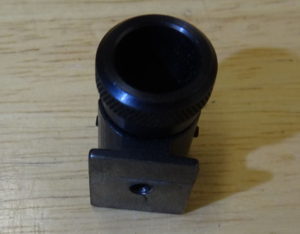 Next a base, sized to fit the new dovetail was machined and the Lyman sight was drilled and taped for 6-48 screw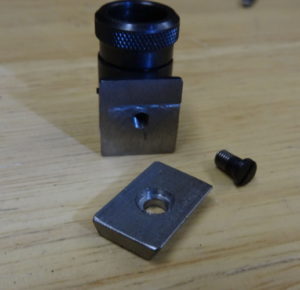 The new base was bolted and superglued to the globe sight and the screw head filed flat.
Blued up and it looks and functions great!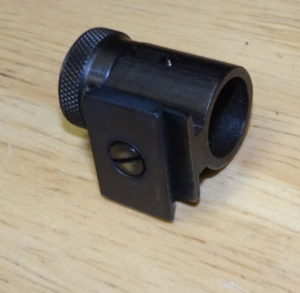 So that's it folks! I now have a "Shooting" Remington Hepburn in the barn……
Stay tuned for a range report if it ever stops raining!