I recently converted a John Deere 214 Garden Tractor to Electric Motor propulsion. You can read all about this project here:
Now it is time to put it to work.
First order is to build an Electric Motor powered mowing deck. Yes, I have enough power in the 13HP electric motor to run a belly mounted mower deck, like the tractor used when it had an ICE (Internal Combustion Engine). But what fun is that! Plus all those belts and pulleys are a Rube Goldberg mess in my opinion.
And my yard is small with lots of nooks and crannies where a front mounted deck might be more advantageous.
My original plan was for this deck to have its own LiFo (Lithium) battery pack. I thought if it had its own battery, it could be used on my IH Cub Cadet 782 tractor that still has its gas motor. But on second thought, that tractor is extremely heavy and with four Agricultural tires it makes a mess of my lawn. The 782 will remain the work horse, plowing, cultivating, etc. And in using the JD electric conversion tractor I find I have lots of battery capacity. So for now, it will operate off the tractors 36v system.
So….On with the project.
First I needed a proper sized deck. As it turns out, my first electric conversion was a TORO lawn tractor. The deck it came with was a three blade design which made it quite compact in the front to back space. The front mounted roller was cut off as was anything else attached to the deck that wasn't going to be used. This left me with just the shell.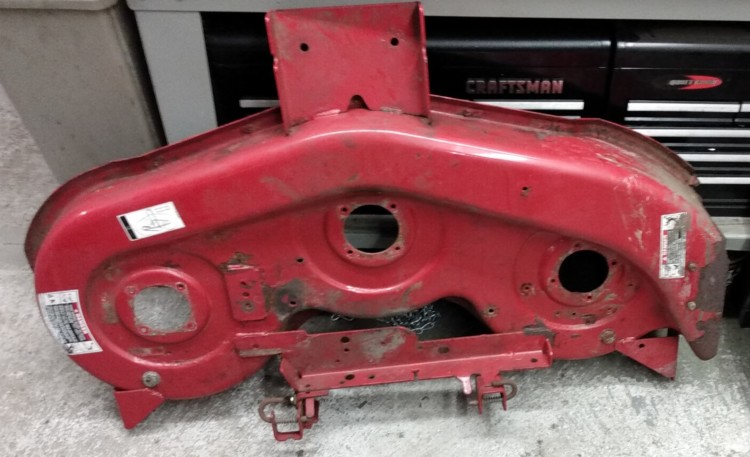 Next was motors. Since the JD Electric Conversion runs on three 12V AGM deep cycle batteries, 36V, I needed three 36-40 wold motors. Most of the cordless, battery powered push lawn mowers on the market are using the same 40V brush type motors.
I was lucky enough to find a seller on Ebay that had three, brand new, 40V lawn mower motors from Craftsman lawn mowers. $160 for all three…shipped!

The cutting blades on this deck were trash. I needed to order new. This mower deck utilizes 16″ blades so I ordered from Ebay, Oregon 91-389 John Deere Lawn Mower Blades, 3-Pack, 16″ for $35
When the blades arrived it was clear they were not a direct fit to the motor shafts. So at the lathe I turned adapters for each motor to mate with the blade.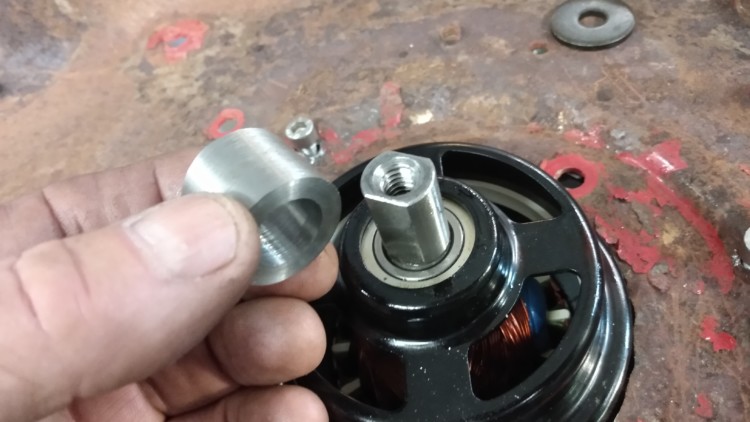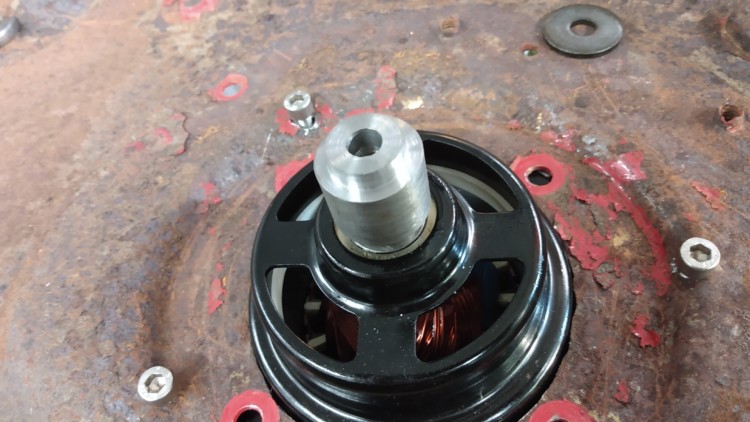 The center shaft of the motor was threaded metric, bolts were secured and the motors mounted to the deck and blades installed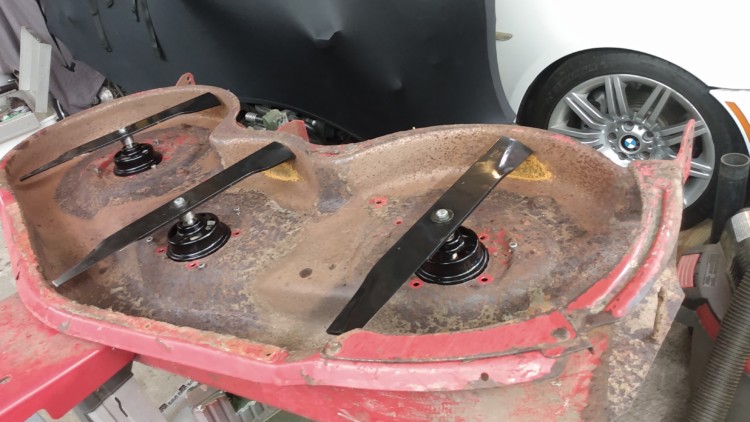 Next was the "carriage" to carry the deck. A few pieces of welded angle and square tubing did the trick after anything I was not going to need on the deck was removed.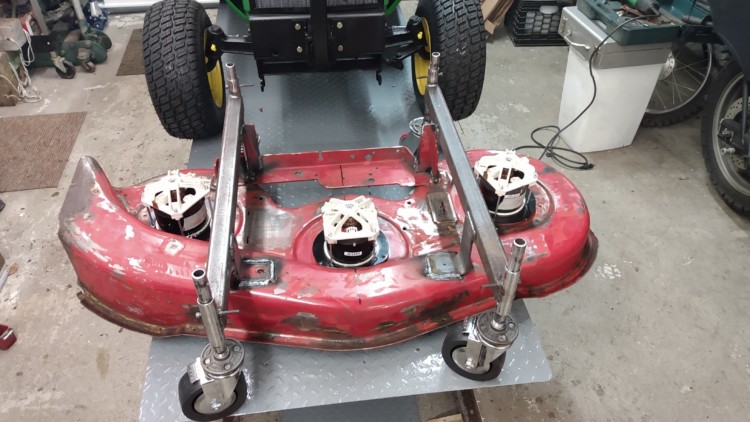 Four swivel casters were employed with adjustable supports.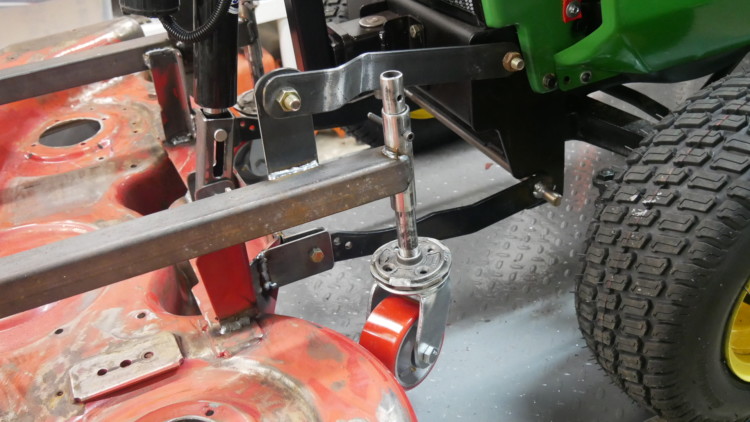 To attach the casters to the pipe stems, simple gas pipe flanges were welded directly to the casters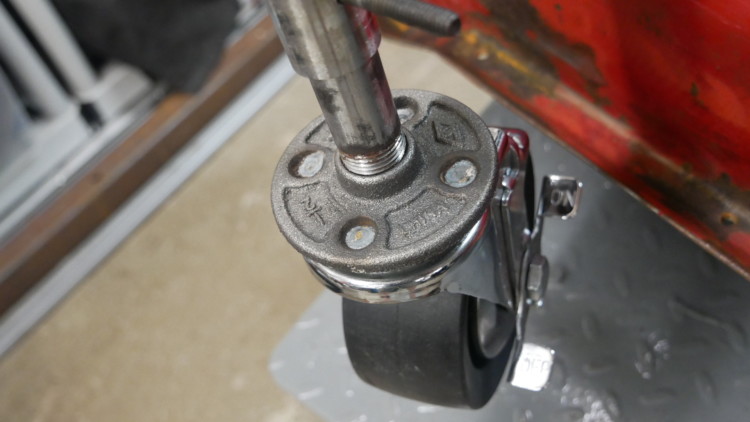 I planned on using an electric linear actuator to raise and lower the deck. I had previously installed a front mounted receiver hitch to easily reposition trailers around my property. I welded an upright support that utilized this receiver hitch to carry the linear actuator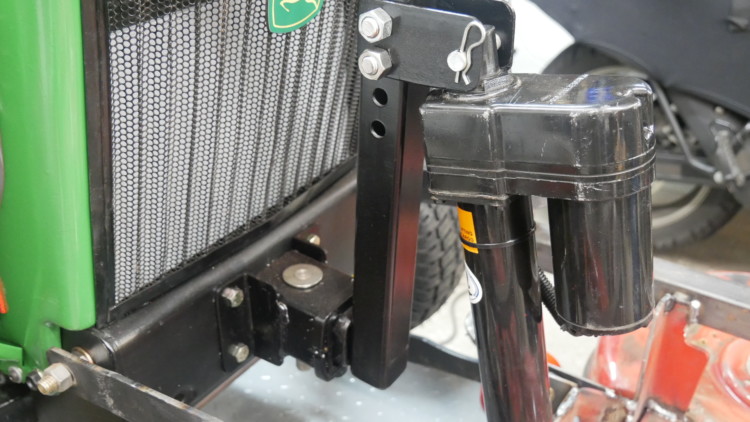 To attach the deck to the tractor took a bit of thinking…..Four "arms" were fabricated out of bar stock and the geometry was calculated so the deck remained parallel to the ground when lifted. I utilized the existing mounting points on the tractor.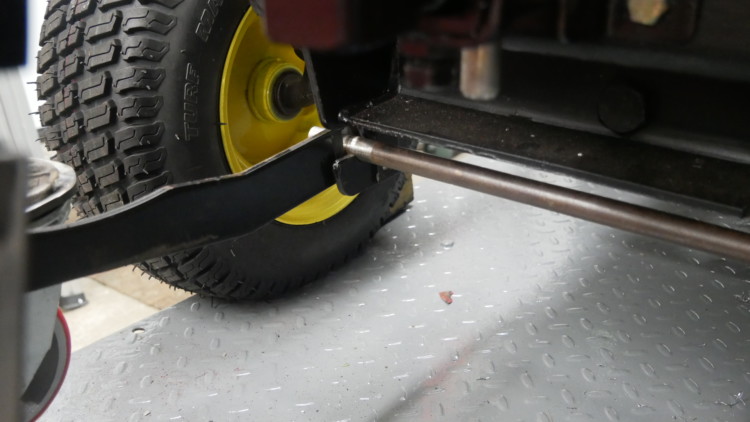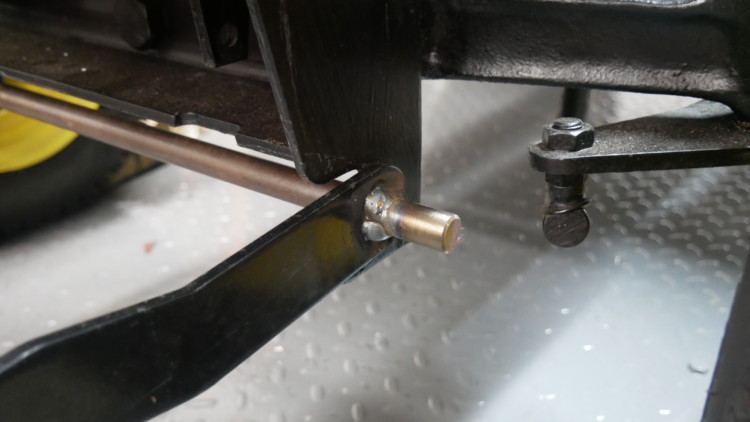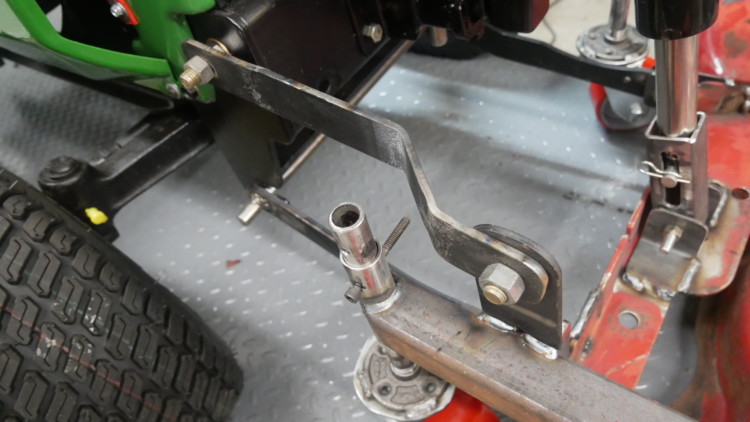 To allow the deck to "float" the attachment point on the deck itself was elogated to allow up and down movement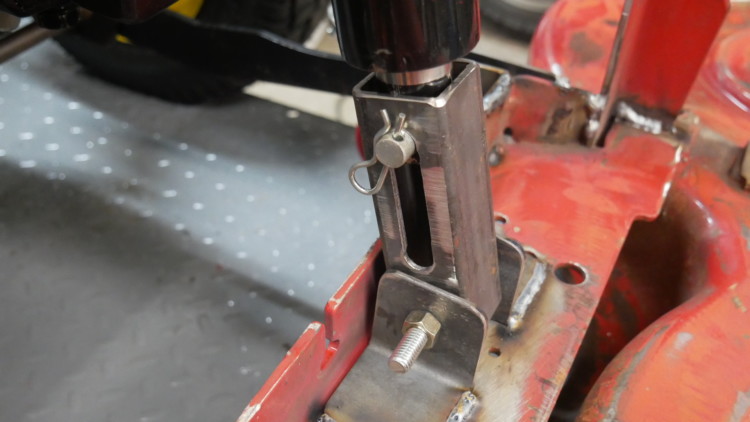 Deck fabrication being completed, a coat of JD yellow was applied
On to the wiring….
A heavy duty contactor, EZGO 36 Volt 200 Amp Golf Cart Solenoid, was acquired from online at golfcartking.com along with a pre-charge resistor and a solenoid diode and mounted on the deck along with a ground buss bar and other associated wiring (PS, the wiring of this contactor is the same as was done on the tractor. You can see this in the link on the Electric Conversion posted above)
The deck is connected to the tractor for power via a heavy duty Anderson Connector. A smaller, light duty Anderson Connector turns the contactor on and off to start the motors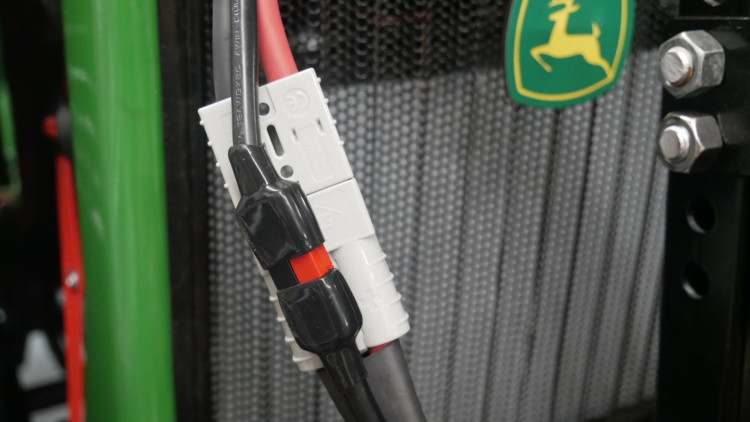 A JD GREEN security type toggle switch was installed to turn the deck on and off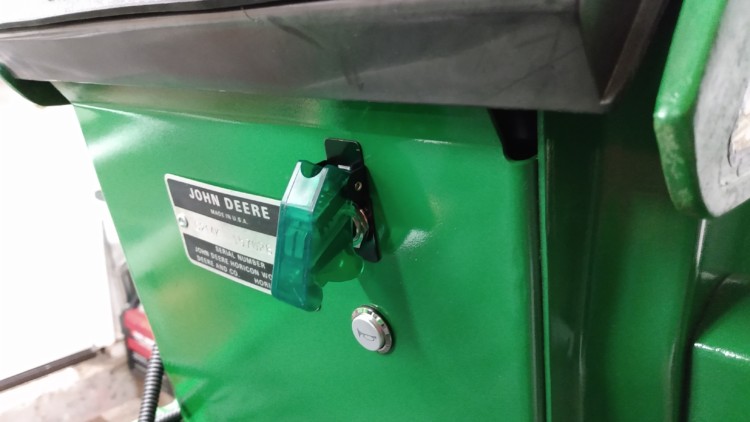 The deck is raised and lowered with the linear actuators control box which has a strong magnet attached to the bottom so it can be placed on anything metal.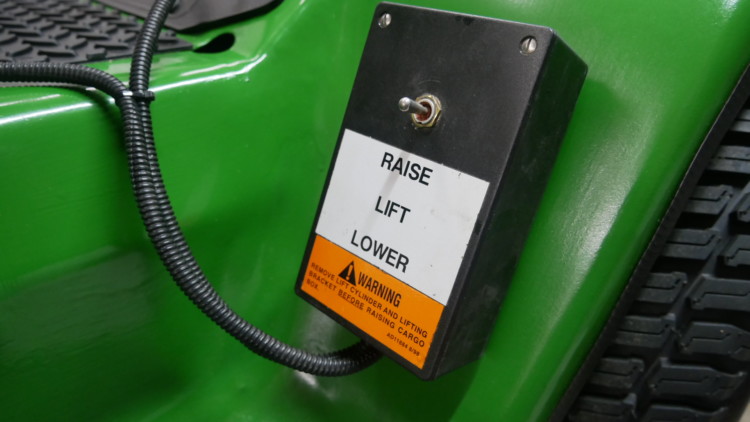 So the deck is finished and installed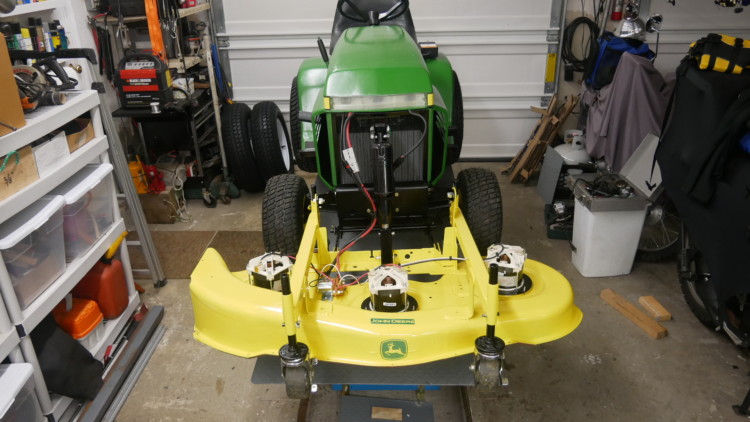 How does it work?….Here are a few video showing that it works fantastic! Better than I expected. I'd call this project a sucess!
So there you have it! Hope you enjoyed this little post on the John Deere Electric Tractor Front Mounted Mower Deck……You can see many more of my "Garage Projects" here
THANK YOU!