My Grey Wolf 19RR sits quite high. The loading ramp has a very sharp angle that makes loading and unloading a motorcycle a bit more exciting than I bargained for.  Usually I unhook from the truck and raise the front of the camper as high as the jack will take it. But now I'm loading a motorcycle on a floor that is on an angle. Not to easy to do alone.
Pictures are deceiving. It is actually quite steep. Some, low slung cruiser type motorcycles can't make it over the transition hump!
The solution is to extend the ramp.
I decided to extend my ramp 48″. Â A trip to Lowes or Home Depot found:
(1) 4′ X 4′ 3/4 sheet plywood
(2) 10′ 3/4″ aluminum C-Channel
(1) Can Flat Black Paint
(1) 4′ Piano Hinge
(2) Screen Door handles
(2) Small barrel bolts
(30) Self tapping, 1 1/2″ X 10 Self Taping Flat Head Screws
To start, the 4 X 4 sheet of plywood was painted with flat black paint. a cup of fine sand was gently tossed on the wet paint.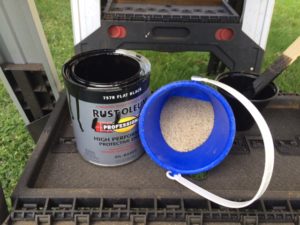 Once this dried, two more coats of Flat Black paint were applied. This creates a nice, no slip, surface
Next the aluminum "c" channel is installed around the edge using 45 degree cuts on the corners
The piano hinge is installed on the trailers ramp edge using self taping screws into the existing ramps aluminum edge
This is the type of screw I used  into pre drilled holes.
They tightened up beautifully in the aluminum edge of the existing ramp.
Next the ramp extension was placed on the existing ramp and attached using more self taping screws
The existing ramp is 58″ wide. I simply didn't want or need the extra weight of going the full width. This size added 28 pounds to the existing ramp
A few photos of how the ramp extension was actually attached to the main ramp. I used longer screws on the extension piece than you would normally use on a piano hinge. I went with 1″ which have some "grab" to the wood under the aluminum edging. (This photo was taken before all the screws were installed)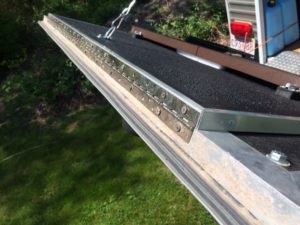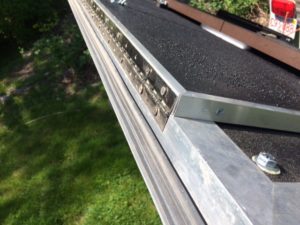 A couple of small barrel bolts were added to keep it in place while traveling
And a pair of Screen Door Handles were installed on the edge to ease handling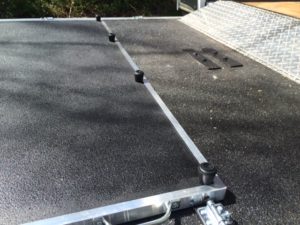 And a few rubber feet completes the deal
I ordered a set of "Swing Down" leveling legs online. These were attached to the end of the existing ramp with a couple 3/8″ bolts and nuts.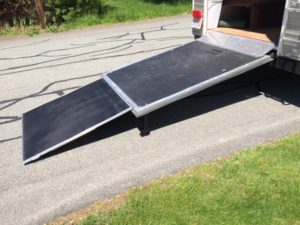 As you can see, the loading will now be much easier and not as scary!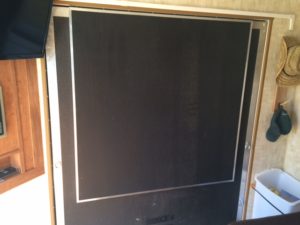 The finished product from the inside, closed up. (Would make a great Dart Board backstop!)
UPDATE! Â  Â I added a work table / desk to this side of the ramp. Read about it here:
FRONT WHEEL CHOCK HOLD DOWN
I also welded a couple of 1/4 X 20 nuts to the back of a couple pieces of steel and inset them into the floor to hold the wheel chock from sliding around.
Flush with the floor so no tripping hazard.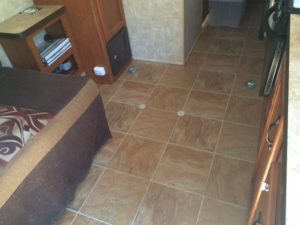 I made up a couple of long thumb bolts to screw into these nuts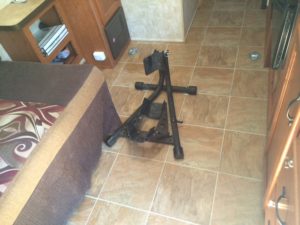 This hold the wheel chock in place and very secure.
I've tested the new ramp extension and wheel chock hold down and it works great. This type of wheel chock holds the bike totally steady while you tie it down. Makes loading and unloading your motorcycle an easy one person job.
Hope you like this little modification. Lots more on the full web site
And lots more pictures here:
http://public.fotki.com/Rbertalotto/toy-hauler-and-truc/forest-river-cherok/
Thanks!